Chocolate & Wine Experience
Featuring Guylian Belgian Chocolate Truffles & Glenora wines
Take your visit and tasting to the next level with chocolate and wine! We've selected wines that pair perfectly with Guylian's luxuriously rich and creamy Belgian chocolate truffles. Whether you're a chocolate lover or are just looking for a unique food and wine pairing, we're sure you'll find our Chocolate & Wine Experience deliciously worth it! Chocolate & Wine is available by advance reservation only - call 800-243-5513 to schedule your tasting.
Pairings:
Latte Macchiato
Paired with Non-Vintage Brut

Soft Caramel
Paired with Barrel Fermented Chardonnay

Signature Hazelnut
Paired with Riesling

Milk Chocolate
Paired with Cabernet Sauvignon -or- Cranberry Chablis

Dark Praline
Paired with Merlot -or- Raspberry Rosé

Crunchy Biscuit
Paired with Vidal Blanc Iced Wine
$15 Per Person

-BY RESERVATION ONLY-
*Includes a complimentary Glenora wine glass to take home.
Minimum of 2 people per experience. Only paid participants over 21 years of age may attend the tasting.
We allow friendly. leashed dogs in our main tasting room only.
Please make other arrangements for your pet during the Chocolate & Wine Experience.

Call 800.243.5513 to book today!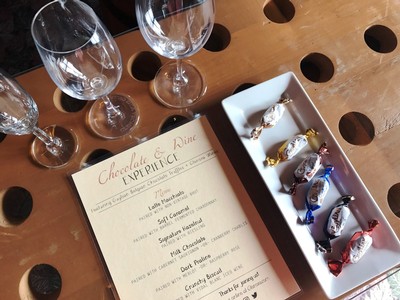 Guylian has been crafting artisanal Belgian chocolates for nearly 60 years in Sint-Niklaas, Belgium, using only the finest Belgian milk, dark, and white chocolates. The use of 100% pure cocoa butter give the chocolates a luxurious creamy taste and superior "melt-in-your-mouth" texture.