Wedding Testimonials

2021
100000% Recommend!!!!! We planned our wedding from 4 hours away and it would not have been so easy or perfectly done without Damita and Courtney. Damita was extremely responsive, professional, and personable. She walked us through every step of the process and made it as easy as possible (and FUN). All the small touches were put together, everything promised was delivered, and it made for an EPIC day. The venue itself is absolutely beautiful, there wasn't a guest who didn't comment on how breathtaking this venue was. Oh and THE FOOD!!!!!!!! The Hors-d'oeuvres and meals were the best wedding food I've ever had. Everyone was telling me how delicious the coconut shrimp, bacon wrapped scallops, veggie spring rolls, beef tenderloins, filet, chicken, scallops were. The bar service was great, the dinner staff was great, the staff made us feel like kings and queens! We are so BLESSED and GRATEFUL to have chosen Glenora as our wedding venue and all the perfection that came along with it. THANK YOU THANK YOU THANK YOU GLENORA!!!!!
Kristen, Reviewed on 8/30/2021
2020
We did our research and visited a number of venues in the Finger Lakes area, but it was clear from the start that Glenora Wine Cellars made the decision easy. To say a 2020 wedding was unique would be an understatement. But given all that was going on in the world we always felt in great hands with James Merritt. From start to finish James was a perfect "10". He clearly mapped out what we could expect and even a global pandemic did not impede his ability to deliver exactly as promised. His preparation, continued attention to detail, professionalism, and impeccable communication left us calm cool and collected throughout the process, culminated with a miracle day that our family will never forget. I highly recommend Glenora and James Merritt for any event, but most particularly your dream wedding. Thank you James.
Stephen T., Reviewed on 8/19/2020
We did a lot of research over our 2 year engagement on venues for our 2020 wedding. We were looking for something in the finger lakes that could offer a cozy but elegant venue for both our ceremony and reception. It was obvious from the first time we visited Glenora and met with James that they were two steps ahead of the rest... everything about the planning process was so effortless. The venue is absolutely stunning and the staff was amazing to work with from beginning to end. Our guests kept mentioning how beautiful it was and everyone had a smile on their face the whole day.

I also have to make a special thank you and recommendation for them based on how incredible they were through the COVID pandemic in helping ensure our wedding was still perfect and what we wanted. We ended up having to change plans a bit and opted for an intimate family-only ceremony this year, with plans to have a big bash next year (assuming we can do so at that time) and Glenora and James were so amazing in facilitating that and making it totally stress-free. Highly highly recommend, cannot say enough good things about the venue and especially James for putting us at ease and making our day perfect, even in the midst of a pandemic. Would give 10 stars if I could!
Natasja & Lucas, Reviewed on 9/1/2020
2019
Glenora holds a special place in my families heart and to have been able to hold our wedding here was a dream come true! James is an absolute hero to work with! He was always available, never turned down any of my crazy ideas and calmed any nerve that I had through the whole planning process! I cannot thank him enough!! To sum up, if you're looking for a venue that has beautiful scenery year round, amazing food on site, a space that you can truly envision anything in, a day that is filled with love & happiness, a kick ass wedding team and a James (trust me, you're not going to find one anywhere else!), Glenora is your place!
Amie H., Reviewed on 1/16/2020
If a perfect wedding venue existed, it would be Glenora Wine Cellars! My daughter's wedding was everything we had hoped for... and more. We had a clear, crisp Fall day with beautiful scenery, excellent food, and of course great wine! So many guests came up to us and said it was the best wedding they had ever been to...an absolutely accurate assessment!

James and his staff made all the planning and implementation stress free... they were awesome to work with. James made everything seem so easy, even though I am sure it was not! He has a great eye for detail and nothing was left out. We trusted him with the layout of all our decorations, the dessert table, etc. and our trust was earned... everything was beautiful! Future brides and grooms and their families are fortunate to have James and Glenora Wine Cellars as a perfect backdrop for their wedding day!
Barbara (Mother of The Bride), Reviewed on 11/06/2019
From the groom: To get right to the point, James was amazing. Thanks to James and his team, every stage of our beautiful wedding day at Glenora was flawlessly executed. His attention to detail and enthusiasm for wedding-day success allowed for my wife and I to do nothing but enjoy the day. Could not have asked for a better day, location, or wedding planner to help us create the perfect wedding day.
From the bride: Our wedding day generated so much joy thanks to James, and the incredible team at Glenora Inn & Wine Cellars / Veraisons Restaurant . From day one, James ensured that we would be taken care of, and that there would be no problem bringing our wedding day vision to life. We are SO GLAD we trusted our day with James and his team. Prior to the big day, James was timely with email correspondence, provided fantastic recommendations and was extremely accommodating with our requests. On the day of the wedding, my husband and I did not worry about one single detail. Everything ran smoothly and James was there from start to finish. Our guests raved about the food, the gorgeous venue, and the incredible service. Thanks to James and everyone at Glenora, we have memories we will cherish for years and years to come. We cannot recommend Glenora highly enough.
-Emily & Joe, reviewed on The Knot 10.14.19
BOOK YOUR WEDDING HERE!!! My husband and I recently got married at Glenora and it was the best decision we ever made. First of all, the venue included so much for your wedding. This includes food (amazing our guests have not stopped raving about it), tables, chairs, table cloths, napkins, cake cutters, cake stands, cupcake stands, candle votives, champagne flutes, table numbers- the list literally goes on and on. Do you know how much money we saved because of this?! You can browse their inventory to use for your wedding just ask James!

Now speaking of James...

THANK THE LORD FOR JAMES. James literally saved my life during planning. From everything the venue includes to all of his help and guidance, I don't think I could of done it without him. He constantly kept in touch promptly and the day before the wedding helped take in all of our boxes and decor like a pro and set everything up exactly how we wanted. We even trusted him to do some things his own way which was the best idea ever (if you think about it who knows more than him in this situation..honestly). The day of he was totally focused on keeping everything as smooth as possible and he succeeded. The next day everything we brought was broken down and neatly placed for us to take home!!!!!!!! He is so sweet and definitely handled some bride breakdowns like a pro. I really feel like without James our wedding would not have been as amazing as it was. Everything went smoothly and I was so much less stressed because of him.

Now Glenora...

The VIEWS!! Every room on the property has a view of the vineyard and lake and it's absolutely incredible. (Another thing our guests have not stopped raving about). Every photo taken at our wedding was breathtaking just from this. There is also many hotel options near by and shuttle services available to rent to accommodate additional guests! Staying at Glenora also includes so many perks likes free wine tasting for guests every day of their stay, a free bottle of wine in the room and tasting at sister wineries on the lake. (our guests were EXCITED)

Honestly the list goes on and on you should really book an appointment to see it for yourself. Our wedding was the best best best best flawless day ever because of the venue and most importantly James. I hope every bride gets to say this about their special day.
-Tina I., reviewed on The Knot 10.04.19
I honestly don't know where to begin. Glenora was the only venue we looked at when choosing a place for our wedding. Within 5 minutes of our tour and meeting with James the event manager we were ready to sign a contract and book the date. James is INCREDIBLE and makes wedding planning so easy. He is attentive, so easy going and works so hard to make sure you as the couple are getting exactly what you want for your wedding day. Even when I stressed about the weather and possible rain he kept me calm and assured me it would all be okay. We ended up having to move our ceremony onto the covered terrace and it was still beautiful and perfect. Our guests have not stopped raving about the food, the service, the VIEW. Honestly, before we booked my fiancé was skeptical of all of the 5 star reviews but we can now say we know why. Having the inn attached and being able to offer rooms for our guests was another huge perk. The fire pit was great for our late night after party. There are just so many wonderful things about this place I could go on and on. Having our wedding here was the best decision we could make. If I could do it all over again I wouldn't change a thing. Thank you James and Glenora for helping to create the most magical day of our lives!
-Erin Z., reviewed on The Knot 07.03.19
I'm not sure if it's possible for us to express in words how grateful we are that we chose Glenora Wine Cellars as our wedding venue and how incredibly impressed we were across the board through the entire planning process . As out-of-state residents, we chose Glenora after falling in love with the Finger Lakes region and simply loved Glenora for the location and scenic backdrop. We also underestimated just how convenient it was to have lodging options right on site. But more than anything, we could not imagine anyone being more helpful in planning our day than James. He was so responsive and reassuring every step of the way, answering our endless questions. He was such a calming presence even up until we walked down the aisle and truly made us feel like he would swiftly handle any issues that arose, which is so important when you're stressed with all the little details of the day. All of the service staff at Glenora, including the restaurant, inn, and winery, were incredibly friendly and professional, not only on our wedding day but during every visit we have had. The dinner was absolutely amazing and many guests made it a point to stop in at Veraisons even after the wedding day. Finally, for anyone planning a wedding out-of-state like us, I couldn't imagine another venue making the process so flawless— I actually don't think it would be this easy to plan a wedding in our own town! James provides you with a packet of preferred vendors and we were extremely satisfied with every vendor we used. It also says a lot when communicating with the vendors, they would all speak praises about Glenora and how much they enjoy working with James. I would recommend this venue a thousand times over. Thank you for making everything about our wedding day more perfect than we could ever imagined!
-Kelly D., reviewed on The Knot 07.11.19
My husband and I were married 6/15/19 at Glenora, and we could not be happier with our choice. 10 stars. Both the venue and wedding and events manager James were perfection, and made for a wedding day better than I could have ever hoped for. There are so many reasons to choose this venue, I will just note a few. First, the venue is stunning. The few photo's and video I have seen so far are breathtaking, overlooking vineyards and the lake. The restaurant is beautiful. This place is easy to work with on a budget because not much extra work is required to make it ready for a wedding. In January there is a bridal expo held at Glenora, and this is were I found all my vendors. This was perfect because these are the ones that commonly work with the venue, and that made it all incredibly easy too. Second, our wedding was destination for 99% of our guests. A large chunk were able to stay at the hotel attached to Glenora, which most other venues in the area don't offer. We did end up providing a shuttle service to the remaining guests, as taxi's and ubers aren't available like they are in a city. Also, as most of our guests were out of town, there was plenty to do the whole weekend for those not in the wedding party. Third, there is an indoor option for the ceremony in case of bad weather. I grew up in upstate NY and this was one of my requirements for a venue, knowing how unpredictable the weather could be. Again, not a lot of the venue's in the area offer this. I was so relieved I did this, because our wedding day was in between two horrible days. Rain was predicted as well as high winds. We got lucky and ceremony ended up outside, but up to just a few minutes before we could have moved inside if we needed to. An extremely nice touch that made the wedding feel super high class, every guest staying at the hotel was given a class of champagne upon arrival, as well as a free bottle of wine in the room. Last but not least in any way... JAMES, the wedding and events manager. He was a dream to work with. He is so calm cool and collected, he made the almost 2 years I spent planning our wedding, and the day of, a breeze. This is how a wedding should be! At the end of our wedding, we both gave him a hug feeling like we were saying goodbye to a friend. There are no negatives to this location. I could keep going... but I will leave it at this. I would not hesitate to choose this venue again.
-Kara L., reviewed on The Knot 07.01.19
The perfect venue for our wedding of about 100 guests! One stop shop for our ceremony, reception, and places for families and friends to stay. Glenora deserves the rewards it holds and met all of our expectations. I want to echo many of the reviews here from previous years: James, our coordinator is still executing weddings with perfection! Relaxed, professional, and punctual with responses throughout the build up season. He was very flexible and always available the weekend of as we set up a breakfast and walkthrough with the families. And on the day of, if there was a problem or snag, I never even knew about it as he had everything taken care of. All for what I feel is a very reasonable price. Hey weddings aren't cheap but you won't regret the investment in Glenora.
-John L., reviewed on The Knot 06.06.19
We had our ceremony and reception both here and all of our guests (and us!) absolutely LOVED it! Their wedding planner James was with us from start to finish on the big day, and helped all along our planning process too. It snowed unexpectedly on our wedding day, but not to worry- James stayed in contact and moved the ceremony from outside to instead on their covered balcony a few hours before the ceremony began. The food was amazing, and they give a ton of options to cater it to whatever your style is. On top of that, they accommodated different diets we had in our guest count and the service we had all night was absolutely incredible. Your guests won't leave hungry, that's for sure! I would recommend Glenora to anyone getting married in the Finger lakes- you can't beat the view or the overall experience, and to top it off you can rent rooms and stay there too!
-Mackenzie W., reviewed on The Knot 05.04.19
2018
We chose this amazing venue for their sweeping views of Seneca Lake and did they deliver! The coordinator there, James, ensured our day went smoothly, was there to answer any questions we had, and was an absolute joy to work with! The professionalism of the entire staff at Glenora was more than we could have ever asked for!
-Nicole E., reviewed on The Knot 11.17.18
James was our planner and kept us informed and up to date for the entire year. He and my best man worked together so every detail was met. Our intimate wedding of 15 people was fabulous with James staff complementing his leadership. If your not considering the Glenora for your wedding, you and your guests accommodations and meals and wine your making a big mistake.
-William S., reviewed on The Knot 10.01.18
Glenora Wine Cellars couldn't have been a more perfect setting to have our wedding. It truly felt like a fairytale! The views are breathtaking, the food is excellent, and the service trumps both of those things. I don't even know where to begin with James. He is such an incredible event coordinator, and knew the answer to every single question I had (and believe me, there were a lot of questions.) He made sure that everything was set to go the day of the wedding, down to the smallest detail. We are so grateful that James was there for us throughout our wedding planning process. He is THE BEST in the business!
-Christine J., reviewed on The Knot 9.15.18
Our wedding at Glenora was absolutely perfect. James made all our dreams come true and was easy to communicate with and prompt with answers. He is a true wedding expert.I am so thankful for the suggestions he made throughout the planning process because I would have never thought of them myself. My guests raved about the food. My bridesmaids and myself stayed at the beautiful cottage on Glenora's property the night before the wedding. The inn at Glenora was a huge plus, allowing our guests to stay on site. The scenery at Glenora provided a breathtaking atmosphere and absolutely beautiful photos. All the staff were accommodating and seemed genuinely happy to be part of our big day. We are so glad we chose Glenora!! Thank you for making our dreams come true!
-Jessica C., reviewed on The Knot 9.9.18
Thanks so much to James who went above and beyond to facilitate the perfect wedding event for our daughter. Glenora provided the perfect venue for this event, from the gorgeous views to the courteous staff to the delicious food! Thanks James for your hard work and attention to detail.
-Ralph D., reviewed on The Knot 8.28.18
CAN I GIVE 100 STARS!? If you don't choose Glenora for the UNREAL scenery, out-of-this-world food, excellent wine, or convenient on-site guestrooms... CHOOSE GLENORA FOR JAMES!!! James is the most professional, laid back, easy going person to work with, and when planning something as complex and high-stress as a wedding, easy going is exactly what you need! The second my family and I met James the decision to have our wedding there was made, and he made our dreams come true. Working with James the past year has been fun and SO EASY. I am a perfectionist and so detail oriented that I originally wanted to set the room up myself. After seeing what James and his crew did- I wouldn't have done HALF as good as they did! I changed some things last minute and as I started panicking, James said "no worries, we got this! it will be perfect" and it was!! He was there first thing in the morning to hang flowers on the arch, lined us up for the ceremony, arranged us before the introductions, SERVED dinner, and stayed through the end to clean up. What doesn't he do!?! All of our guests said this was one of the best weddings they have ever been to and not one thing was overlooked. We owe that to the entire crew at Glenora. From the front desk & housekeepers, to the amazing chef, the bartenders & servers.. they are TOP NOTCH. Our guests raved about every single employee they encountered. Thank you to James and his team at Glenora- we will be talking about the perfection of 8/25/18 forever!!!
-Alyssa D., reviewed on The Knot 8.28.18
Glenora was a dream come true for our wedding day in July. It was such beautiful and idyllic setting and of all the venues we considered, it was the most convenient: the ceremony, lodging, reception areas are all on site and James and the whole Glenora team are experts at what they do. Accessibility to airports and proximity to interesting sites for our out-of-town guests made it ideal. James' professionalism was so reassuring and he made sure everything came together perfectly. The food (and wine!) were also incredible. We can't wait to visit in the future and reminisce about our wedding day!
-Knottie, reviewed on The Knot 7.24.18

Glenora was great to us for our rehearsal dinner. The food was amazing and the view was breathtaking. The group had an amazing time and we have several comments made about the view. James even took it upon himself to create place cards for us. Would highly recommend for large group outings!
-Maria S., reviewed on The Knot 7.5.18
Glenora was amazing. My husband is from the area but we do not live in the state but working with James and Kathy (who is no longer there) was the easiest part of the planning. Even as Kathy transitioned out they were both on the same page and made it seamless. The day of, James was on it, he handled all the timeline and set up for us so we could get ready and enjoy the evening. He even ensured I could check in early to get ready, which I had totally forgotten to ask the front desk. All the guest loved the view and the tenderloin w mojo sauce! James and Glenora were the perfect choice for us!
-Miracle L., reviewed on The Knot 6.29.18
I cannot say enough about this venue and coordinator!!! We fell in love with Glenora for its views and the incredible food at Verasions, but James is just awesome! He is the cherry on top! We planned our wedding from Florida, and he stayed in touch with every detail through the whole process. He worked around our crazy schedules so we could get tastings and things done while we were visiting family locally, and genuinely cared about our big day! He felt more like a friend and guest at the wedding by the time the big day rolled around. He also worked very closely with the chef, Orlando to make our dream table-length charcuterie boards come to life (which is a big deal being that Im a chef, and we are both foodies!) The hotel itself was wonderful, the rooms could use an update, but with the views and free bottle of wine, no one seemed to mind much! We also used the Cottage at Glenora for our bridal suite getting ready the day of, and it was perfect. The sun room is beautiful and picturesque! I wish I could give 10 stars and we will definitely be revisiting for many anniversaries to come! Huge thanks to James, Orlando and the whole Glenora staff!
-Lauren Z., reviewed on The Knot 6.27.18
Our wedding at Glenora was everything we wanted and more! James and his team took care of everything the day of and I didn't have to worry at all. I'm a a big planner and very detail-oriented person, but everything came together perfectly and that's a big testament to the Glenora wedding team. If you want a picturesque, charming location that your guests will be talking about forever and photos that make your jaw drop, then Glenora is the place for you!
-Angelia R., reviewed on The Knot 6.18.18
2017
We cannot say enough about Glenora! To start, our wedding coordinator, James, was an absolute pleasure to work with throughout our entire planning process. He was nothing short of attentive, compassionate, understanding, and so incredibly hard working. My favorite moment was walking down stairs with my father, to find James knelt down, eye level with my niece/flower girl, reassuring her of how pretty she looked and how amazing she would do. She giggled, still a little nervous and made her way down the aisle. Our entire day was stunning and absolutely perfect thanks to James and his entire team! As the doors opened to walk down the aisle to my soon to be husband, the sweet aroma of grapes from the vineyard, the view of the lake, and all of our friends and family there to celebrate us, literally took my breath away! The food was absolutely impeccable, I don't think there was one person who didn't rave about how amazing it was. James and his team made it a point to determine ahead of time who was responsible for any questions or concerns the day of the wedding so that my husband and I did not worry about anything. Now, just like any family we had those who required a little more attention than the rest. Again, this team did everything and anything to accommodate everyone, from picky eaters, plating and serving those who had difficulty getting around the buffet, while always ensuring that my husband and I were taken care of and had everything we needed. We finished our night with our family and friends dancing the night away and singing "Ring Of Fire" on repeat 3 times! We never worried about anything from set up to take down! The following morning we were greeted with mimosas as we arrived to breakfast and treated as if we were the most important people there. Our day was perfect from start to finish and none of it would have been possible without the stunning scenery, beautiful venue, and the hard work and dedication from James and his team! We were blessed and grateful to have chosen Glenora as our wedding/reception venue.
-Kayla B., reviewed on The Knot 11.20.17
I had the perfect dream wedding at Glenora, thanks to Kathy and her team! The venue is absolutely stunning - a perfect Finger Lakes wedding venue - and everything is so well organized and thoughtful. Kathy handled so many different details during the planning and the wedding day, it took away a lot of the stress I hear other brides deal with on the big day!
-Hannah M., reviewed on The Knot 10.19.17
I wish I could give Glenora and James 10+ stars. From the scenery to the venue to the food and especially James' help and expertise, Glenora made wedding planning easy and no detail was left to chance. Our day was absolutely perfect from beginning to end. James and the entire staff were helpful, attentive and just as excited about our day as our we were. James' commitment to ensuring we had a perfect day was unparalleled, he went above and beyond. He was helpful and supportive throughout the whole planning process offering suggestions and recommendations, this was especially helpful since we planned our wedding from Michigan. Friends and family are still talking about our day. There are not enough words or stars to thank Glenora, their team and especially James for helping make our wedding day absolutely perfect.
-Alyssa P., reviewed on The Knot 10.12.17
AMAZING! There are so many words that come to mind when thinking about our wedding! Glenora was the best choice and we had a GREAT time! The location is beautiful and we can't wait to see the pictures :) Our guests kept telling us how beautiful the location is and that the staff was wonderful! James was amazing from the beginning! He answered EVERY question and was with us the entire way! I can't say enough about how great he was! It was so nice not to have to worry at all about the venue or how it was going to look! James knew what we wanted and made sure it happened! He was calm every step of the way, even when I left my bouquet in my room before the ceremony haha! We wouldn't have changed a thing and LOVED our special day! We would make this choice again! Thank you James and the staff at Glenora for making our day BEAUTIFUL and SPECIAL! We're married!! 10/7/17
-Carolyn G., reviewed on The Knot 10.9.17
Our wedding in July, 2017 was everything we dreamed it to be and more. We owe so much of that to our wedding coordinator James (and Kathy too)! As soon as we decided on this stunning venue James was there for us from day one. He is always upbeat, dependable, and so accommodating with ANYTHING you could possibly need. I hope that Kathy and James know how much they mean to a bride and how much stress relief they provide just by being who they are. On the morning of the wedding we were each able to spend all our time with our bridal parties knowing that everything else would be taken care of by James and the rest of Glenora's staff. Then we were able to fully enjoy and soak in the rest of the day by getting married outside with Seneca Lake and the vineyards as the view. We followed the ceremony with a delicious dinner in the cozy dining room, and finished with dancing the rest of the night away under the stars and the string lights they have set up. It could not have been a more romantic and beautiful setting and people still complement the venue to this day. We would give anything to go back to that day and would recommend this venue, along with Kathy and James, to anyone in a heartbeat!
-Christy A., reviewed on The Knot 10.2.17

James was wonderful!!! He answered every question and was great with helping us plan everything from over three hours away! I knew everything was handled and never worried about a thing!
-Danielle E., reviewed on The Knot 9.25.17

My husband and I had our wedding reception here back in May. Kathy our coordinator was EXCELLENT. She was extremely helpful, accommodating, and friendly. The restaurant was able to accommodate our vegan guests along with our guests with food allergies. The grounds were absolutely beautiful. The service, location and quality made our reception better than we could have imagined it to be. The food and wine were excellent as well. I would recommend this place to anyone looking to host an event in the area. More kudos to Kathy for coordinating our event so gracefully.
-Melissa T., reviewed on The Knot 7.19.17
Our wedding at Glenora in June 2017 exceeded even our biggest expectations. Our experience working with Kathy and James was phenomenal. They had every last detail covered and kept us organized, calm, cool and collected even on the big day. Our guests raved about the food (many said it was the best they'd had at a wedding) and the view (you won't find a better one on Seneca Lake). We would choose Glenora over and over again for our wedding.
-Ericka & Matthew, 6.24.17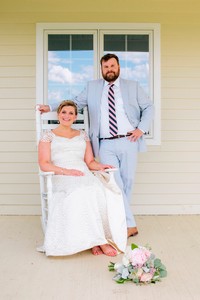 Glenora Wine Cellars deserves 500 stars! My wife and I had somewhat of a destination wedding, and we chose Glenora for our reception based on the reviews we read, and more importantly, the interaction we had with our coordinator, Kathy. Kathy was incredibly accommodating, enthusiastic, and helpful during our planning process, and when we finally met her the day before our wedding, she was just as wonderful as she seemed through our phone calls and emails. You can tell from the photos that Glenora is a stunning venue, but what doesn't show is the extraordinary service they provide. Literally everything we could think of was covered, and then some. Thank you, Kathy and your team, for making our reception perfect!
-Melissa & Garret, 5.11.17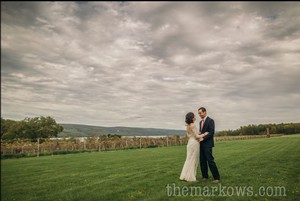 Can I give 6 stars? Or 7? Glenora is off the charts in every category. First and foremost: Kathy!!! She is the best of the best; professional, knowledgeable, organized, flexible and most of all, FUN to work with. She not only made our entire wedding planning experience a breeze, but so enjoyable! Our venue was the easiest choice to make and the most stress-free part of our planning. Kathy responded to each and every one of my questions and concerns so promptly, and let us tailor our event to our exact liking. She made sure every single detail was in place! A few other points to highlight: - The food is amazing. Our guests raved about it, especially the filet! - The view is spectacular and the best in the Finger Lakes region, bar none. - The entire staff is so friendly and accommodating. You feel like your wedding is the most important event in the universe and everyone treats you like royalty. - The Inn is right there! We had a lot of out-of-town guests and many stayed at the Inn at Glenora. They all were beyond happy with their choice to stay there! The view out each guest's room is equally beautiful and Glenora welcomes everyone with a glass of sparkling wine & a chilled bottle of wine is in their room waiting for them. They also put our guest welcome bags in each one of our wedding guest's rooms! - I need to give a shout out to James - he and Kathy work as a wonderful team and he jumps right in to help with anything and everything! My husband wanted a specific local craft beer on tap for our wedding day and James went above and beyond to get it there on time. I could write a novel about why everyone should get married at Glenora. I am actually sad that wedding planning is over because I will miss talking with Kathy regularly! They take customer service to the next level and make sure that your special day truly is the best day of your life.
-Molly & Colton, 6.3.17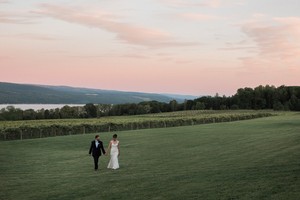 2016
Glenora went above and beyond our expectations to make our special day even better than we could have imagined. No detail was overlooked, no matter how small, and we are so incredibly grateful to the amazing staff who stopped at nothing to make sure our wedding went seamlessly. The venue itself is stunning no matter the time of year, and our guests were blown away by how beautiful and scenic it is. I've even noticed that a number of our guests used photos from the event for their Facebook profiles. The food was spectacular - the chefs worked with us to design a custom menu that fit our wedding theme perfectly, and they somehow sourced lobster that was fresher than what we've tasted right on the ocean. I cannot praise Glenora enough for their amazing work, it is truly a special place!
-Emily & Matthew, 7.3.16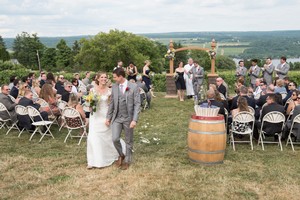 Positive reviews for Glenora were what ultimately led us to choose this venue over others, and they more than lived up to their reputation. We had a small wedding (40 people), and only rented half of the restaurant, but both the ceremony and reception were incredibly beautiful. The biggest thing that made our experience so wonderful was the support we got from the onsite wedding coordinator, James. He was so helpful throughout the whole process, letting us know what we needed to do and when and offering suggestions when we didn't know what we wanted, and he was a source of calm and reassurance when my nerves started going in the weeks and days leading up to the big day. The entire staff that I interacted with at Glenora were superb, and James was really above and beyond.
-Kayleigh & Jonathan, 6.26.16
Glenora is a fantastic place to get married, the views were gorgeous and James, our wedding coordinator, was amazing as well. We worked with James for over a year. He was always responsive and helped us with our decisions along the way. Everything worked out perfectly the day of our wedding - we were afraid that the rain might force us to move our ceremony indoors, but they were able to pull off an outdoor ceremony just minutes after the rain stopped. We can't thank James and the staff at Glenora enough!
-Siu Kay & Albert, 7.30.16
Wedding planning is hard. Really hard. What was NOT hard, was anything pertaining to this venue. From the moment I first emailed with James about booking a date, to the moment we hugged and said goodbye after our fabulous wedding, we were taken care of. James went above and beyond to assist with anything that was on my mind throughout the year. I was nervous about doing a destination wedding, but he was so quick to provide recommendations for wine tours, restaurants, salons...whatever it was, James either had an answer or found one for us! As time went on, I began to wonder how I got so far in my personal life without James to support me! ;) He is priceless as a coordinator and Glenora is beyond lucky to have him. If you choose Glenora as your venue, you will not be disappointed. You will be treated as if you are the only bride/groom and will be welcomed as a part of the Glenora family. The entire staff is amazingly friendly, helpful, and accommodating. The food? Don't even get me started. It would be unfair to put it in even the same category as "wedding food". Go to your tasting and you'll be blown away. Our guests are still talking about how amazing the food was. Oh and you won't find a better view on Seneca lake. We will be returning to Glenora next year and for many years after! THANK YOU JAMES. You truly made our event extra special.
-Casey & Josh, 5.21.16

I can't say enough about how much we loved Glenora! The venue is beautiful, the view is stunning, and the food is exceptional. Kathy and James, the event managers, are amazing and made everything flow seamlessly from the beginning of the planning process through to the big day. They truly thought of every detail to make our wedding perfect! Once things got started, we were able to relax and enjoy ourselves because everything was taken care of. They also have a large patio where we had our dance floor - we loved the outdoor dancing! Our guests all commented on the beautiful venue and delicious food -- the filet mignon and the seared scallops were 2 favorites. Everyone also enjoyed staying at the Inn, and the out of town guests loved exploring the surrounding Finger Lakes region. We would highly recommend Glenora as a wedding venue!
-Katy & Greg, 6.26.16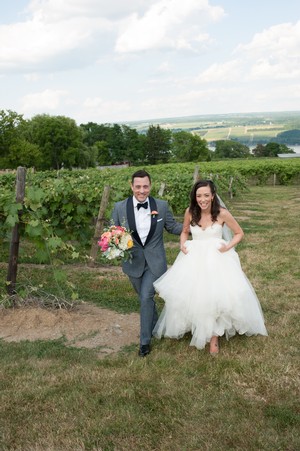 My husband and I were married here on 10/14/16. We initially met James back in January for the tour and fell in love with the venue. After that I only really interacted with Kathy via phone and email until closer to the wedding. So I'll start with Kathy. She was simply the best person to walk me through this whole process and it felt like I was planning the wedding with a close friend of mine. She was so understanding and really makes you feel the importance of it being your day and your way. James was absolutely no different, he was on it the entire wedding day and made sure everything went perfect. Even my family members commented to me during and after the wedding about how attentive James was. I can't say enough good things about either of them. The whole process was perfect from start to finish, I was so sad when the day was over and I'd do it all over with this venue in a heart beat. Thank you so much to everyone at Glenora, there was not a single thing I would change about the day or the experience. My husband and I will be forever grateful!
-Mr & Mrs. Bowers, 10.14.16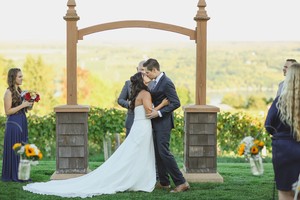 Choosing Glenora for our wedding and reception was the absolute best decision! We wanted something small and low-key and I wasn't interested in doing a ton of planning. Once Kathy got involved, everything just fell into place! It was so great to know we were in good hands and the planning was about as low-stress as could be. We chose to do a brunch wedding and Kathy and the restaurant staff worked with us to pick just the perfect menu. They even gladly accommodated some dietary restrictions among our guests. We showed up the day before our wedding looking to help get things set up and were basically told to go relax with a glass of complementary champagne and everything would be taken care of - and of course, it was! Our guests continue to rave about the beautiful venue, the amazing food, and the incredibly friendly and attentive staff. Whether you want something elegant and fancy or completely casual, Glenora is a perfect choice!
-Alissa & Kevin, 6.12.16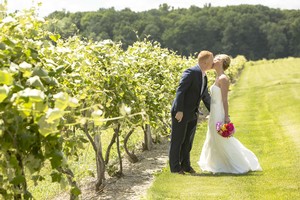 We cannot say enough good things about Glenora. First, let me say Kathy and James are worth their weight in gold and then some. As a bride who did not want to be hands on, Kathy and James took over almost all the details for me and put together the most beautiful ceremony and reception imaginable. They were constantly in contact with us, reminding us when it was time to make decisions and if there were small details we might overlook. Then there's the venue itself. It is a gorgeous setting, inside and out. And the food and wine were to die for! If we were to do it all again, I would choose Glenora and Kathy and James every time! I wouldn't change a thing.
-Jessica & David, 7.16.16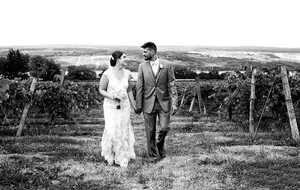 Where do I even begin!! On 9/10/16, my husband and I got married at the most beautiful, perfect venue ever...GLENORA!!! It was truly a fairytale. I would HIGHLY recommend them!! Kathy, the event coordinator is an ANGEL and together with her assistant James-they make an amazing team. Not only was the day of the wedding stress-free and perfect, but the planning process leading up to our big day was seamless! Phenomenal staff, food, drinks, lodge and that romantic view to top it all off!!! If I had to do this all over again, I'd pick Glenora in a heart beat! Love you all!!
-Dani & Alex, 9.10.16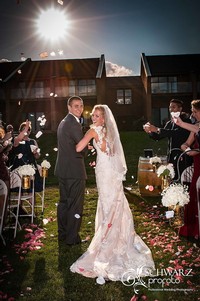 2015
My husband and I were married here in late September and it was above and beyond our expectations. For this time of the year, we had beautiful weather, the leaves were turning, and the air smelled of ripe grapes! Growing up in this area, I knew Glenora had the most gorgeous and expansive view of the lake. Most importantly, we really can't say enough good things about Kathy, Jimmy, and the rest of the staff. Kathy made everything SO easy and stress free from the moment we decided on Glenora to the wedding day itself. Everyone was so welcoming and really went above and beyond for us and our guests. We would recommend Glenora again and again!
-Marissa Lepkoske & Kyle Gletow, 9.26.15
Absolutely Perfect
I can't possibly say enough good things about our wedding experience with Glenora. The staff are all amazing. They are responsive, attentive, and on top of everything. The venue itself is incredible. A beautiful inn where every room looks over the vineyard and the lake. The food is incredible, the reception venue is great and the staff works to accommodate your needs and make sure everything is perfect. We really couldn't have asked for anything more. Our guests were thrilled with everything and so were we.
-Matt Thackston & Justin Palmer, 10.24.15
(Photo by Annette Dragon Photography)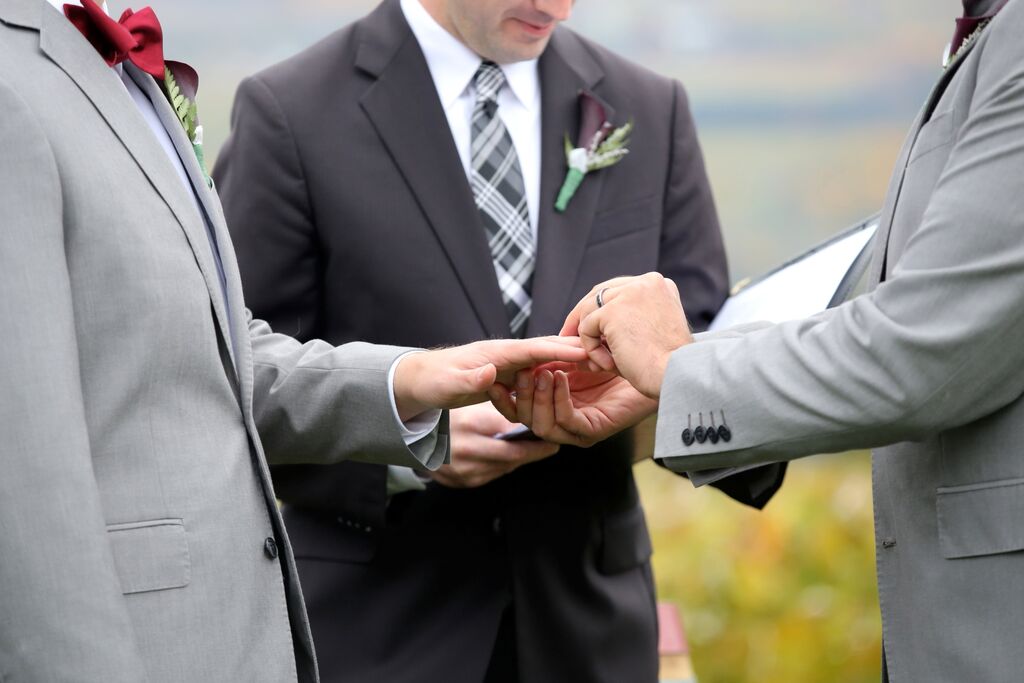 I couldn't have imagined a better wedding!
I was married and had my reception at Glenora in September 2015. The wedding coordinators, Kathy and James, were absolutely amazing to work with. They answered all of my questions quickly and clearly along the way - and took care of absolutely everything the day before and day of the wedding; even dealing with too late flowers and too early rental chairs for me. The whole weekend was exactly what I wanted; mostly due to Kathy and James. Every decoration, meal, or party idea we came up with, they agreed to or helped us achieve. Kathy provided great advice on officiants, DJs, and rehearsal dinner locations. I really couldn't have asked for more and am honestly so happy we chose Glenora!!
-Kristin & Greg Rickard, 9.19.15

We truly cannot say enough wonderful things about Glenora! We were lucky enough to secure the venue when another couple turned it down.. man did they sure miss out!! As a bride/groom that live out of state, and with half of the guest list being from out of town as well, an all in one venue, including accommodation, was extremely important. Kathy, our Glenora Event Coordinator has been an all-star since day one! She never let us miss important milestones in planning and was there to answer any questions. Her experience is known from the questions she asks while planning and if you're unsure, she knows! She understands that life happens and was extremely compassionate to us during some difficult times that arose while planning. When weather called for rain, Kathy had the staff set up both the terrace and the lawn so we could push our decision time for the ceremony. Unfortunately the rain did not hold off, but selecting a venue that has a built in rain back-up made planning that much easier!

Kathy exudes calmness which when you have a rowdy bridal party or are stressed out/nervous it is the most important trait that can be had. Kathy didn't miss a single detail and she really handles it all to let you just focus on the meaning of the day and not get wrapped up in any of the frivolous details.

The food was wonderful and we had so many guests talking about how amazing it was in the weeks following our big day! Also, they do have typical menus based on seasons, but Glenora will work with you to make sure you have the exact menu you want for your wedding day! The chef went out of her way to make a single special meal for a guest with very severe allergies to numerous foods. It meant so much to us that each and every guest had an enjoyable experience!

I could go on and on, but the biggest thing to note is there is not a single negative thing I can say about Glenora, and would recommend anyone and everyone to at least consider hosting their wedding here!!!
-Sarah & Brian McCann, 10.3.15

A Real Gem!
The first thing that struck me about Glenora is the unbelievable view. The grounds are simply beautiful; from the inn you have a 360 degree view of vines and the lake that is at the bottom of the soft hill the vineyard is planted on. This alone would have convinced us to get married there!
However, what makes this place truly first class is that it just continues to deliver. The food is amazing and creative, and the wine is delicious. The most important part for us was that our guests could stay on the premises. We had guests fly in the West Coast, the South, England and Poland, and many drive in from around the Northeast. Because everyone was in one place and got to spend time together, by the end of the weekend we had a room full of a 100 (hungover) new friends!

The most special thing about Glenora is our dear Kathy, the event manager. We planned our wedding from abroad and we really could not have done it without her. She was responsive, reliable, organised, and proactive. Kathy never said no to us once; whatever we wanted to make our day personal and special she made happen! And on the day, Kathy got everything set up and organised, ran the whole day and stayed right up until the end to make sure that every detail was absolutely perfect. She is also a kind and wonderful person to be around, which makes such a difference in the whirlwind that is wedding planning!

I may be incredibly biased as the bride, but I think we had the wedding ever! But shouldn't every bride feel that way?
-Agi Letkiewicz & Marines Piney, 7/25/15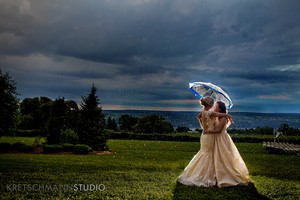 Absolutely amazing venue!
Kathy and James are the perfect team and made our day go so smoothly! From the very beginning, Kathy was always on top of every detail and was so patient with me. We planned our wedding out of state, but she always got back to emails quickly and made the planning process so easy. I have no complaints the day of the wedding. Everything we gave Kathy in terms of decorations was set up beyond our expectations, and everything from beginning to end was taken care of. She even drove me to where we did our first look. We forgot a wine bottle to put in our wine box for the ceremony and realized it 10 minutes before the ceremony and sure enough, Kathy ran and got us one. The food was amazing, the venue is gorgeous, the waitstaff was so friendly and accommodating and having the guest rooms on sight was so convenient. I'd highly recommend Glenora, they truly helped make our wedding day so happy and memorable!
-Dhyana & Ian Coffey, 7/18/15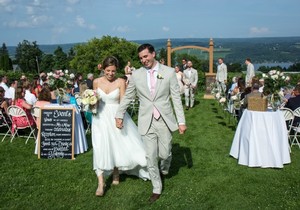 Holy moly... James is a PHENOMENAL day-of coordinator. I had my wedding ceremony and reception here, and it blew my mind with how awesome everything went. I went into the wedding expecting the basics -- what's happening when, what I'm renting, how much it would cost, yada yada.BUT JAMES! He took so much time and care answering all my emails and calls (as someone planning from afar, this was a serious concern for me) and he ALSO went above and beyond the day of! Glenora's staff is so attentive, their vineyards are BEAUTIFUL, and with an inclement weather plan, you know you can rely on having a wonderful day, rain or shine. I highly highly recommend this place, and I am so amazed by how well my wedding was handled. I'm still on cloud 9 almost a week later. YOU WON'T REGRET IT! Book your ceremony and/or reception here -- it'll be amazing!!
-Therese & Ryan Fessenden, 9/6/15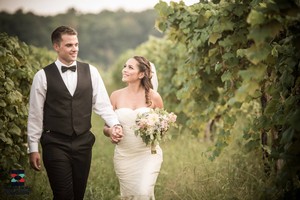 We had our wedding reception at the Inn at Glenora Wine Cellars, it was better than I ever could imagine! The venue is beautiful, and the opportunities for taking great photos are everywhere. The food was outstanding, the service and the hospitality extended to ourselves and our guests was wonderful. The comments during the wedding reception and afterwards were about how fun and enjoyable the party was. I'm certain the guidance and attention to the many details are the reason the party was so successful. I owe that to the professionalism and organizational skills displayed by the Events Coordinators and staff at Glenora. They are wonderful, genuine and caring people to work with. The day could not have been better!
-Susan & Bill Srmack, 5/23/15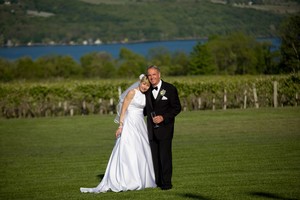 Amazing Glenora Wedding!!
I had the privilege of booking a date at Glenora winery for both my wedding ceremony as well as reception! The ceremony is set up outside looking over the vineyards into the lake making it an amazing view. The arbor they have outside for the ceremony base is so elegant and able to be made into whatever style you want. Pictures could not have been better, and being able to use the waterfall only a short distance away was an epic photo op we will remember forever! We chose the plated option for our meal, and the food really was fantastic. We received a lot of comments afterwards about it not being "the typical wedding dinners". Kathy was great throughout making me feel very at ease and took care of so many details that I didn't have to worry about after things started. it was load off to say the least! we were extremely happy with how everything turned out.
-Bridget & Steve Dershem, 8/23/15
Breathtaking venue, amazing staff
Where do I start! Glenora is absolutely spectacular. The views of the winery grounds and the lake in the background are breathtaking. There are so many spots for wedding photography (plan this ahead, we were really stressed picking out the various spots!). Plus, there's a gorgeous waterfall a minute away for the private bride & groom wedding photos. Where else can you get a waterfall in your wedding photos?!? The spot for the ceremony is so beautiful! right in front of the vineyards, weeping willows, and lake. And the space inside is rustic and elegant, exactly the mood we were going for, especially for a smaller, more intimate wedding (ours had 90 total).
The food and wine are incredibly delicious. Chef Sara is amazing!!!! She makes the most scrumptious dishes, and is so sweet. My family loved her.

And let me tell you... you cannot, CANNOT get a better wedding planner than Kathy!!! She is one of the loveliest, strongest, most able women I know. I don't know how she does it, but you feel like you're her only bride -- even though she's taking care of so many brides simultaneously! You will be SO incredibly well taken care of. She will strive and succeed in making your day perfect. Like I said at my wedding, she is now a cherished lifetime friend for being such a huge part of making my dream wedding. She's just so wonderful. Jimmy, Kathy's aid, is so great. Made our day brighter each time we saw him. Just a powerful duo these two. Don't be afraid to provide your vision and ask lots of questions, Kathy and Jimmy will always answer and make your vision happen.

We looked at A LOT of venues and this one took our breath away, immediately (and my parents were really picky). If you have the same feeling, don't hesitate, go for it, and you won't be disappointed -- Glenora is a glorious and magical place for your magical moment. My only wish is that the wedding was longer! :)
-Lessa & Dylan Kellogg, 7/11/15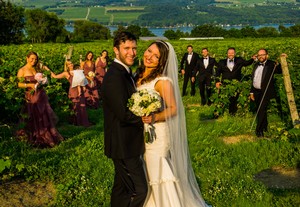 I don't even know where to begin. Not only is Glenora breathtakingly beautiful, with the scenic vineyard and view of the lake, the staff is wonderful. Also, Kathy is an angel. Having her as a wedding coordinator was the most amazing experience and she just made everything so easy. Kathy and James made sure everything and everyone was where it needed to be and the whole thing was just seamless. We even had a thunderstorm with a tornado warning and the power went out, and yet the staff did not miss a beat. They served drinks by candlelight and the food came out hot and delicious, and we hardly noticed the lack of power (eventually it did come back on and the night finished fabulously). I've had several people tell me that it was the best wedding they've ever been to, and we can not thank Glenora enough for such an amazing night, and certainly the best night of our lives.
-Jeni & Sam Howard, 6/12/15

My husband and I got married at Glenora in June and it was absolutely fabulous. Thanks to the wedding coordinator, Kathy, and her team, the wedding went off without a hitch even with the rain that forced us to change a lot of our plans. She was super professional, nice and reliable both prior to and during the wedding. I didn't have to worry about one thing the day of, as she managed all of the decor, day of details/schedule, and the clean up. The food was also amazing and the bartender was so professional and awesome even with our numerous guests getting tons of drinks! We couldn't be happier with our experience and would highly recommend getting married at Glenora!
-Shari & Tony Guidetti, 6/27/15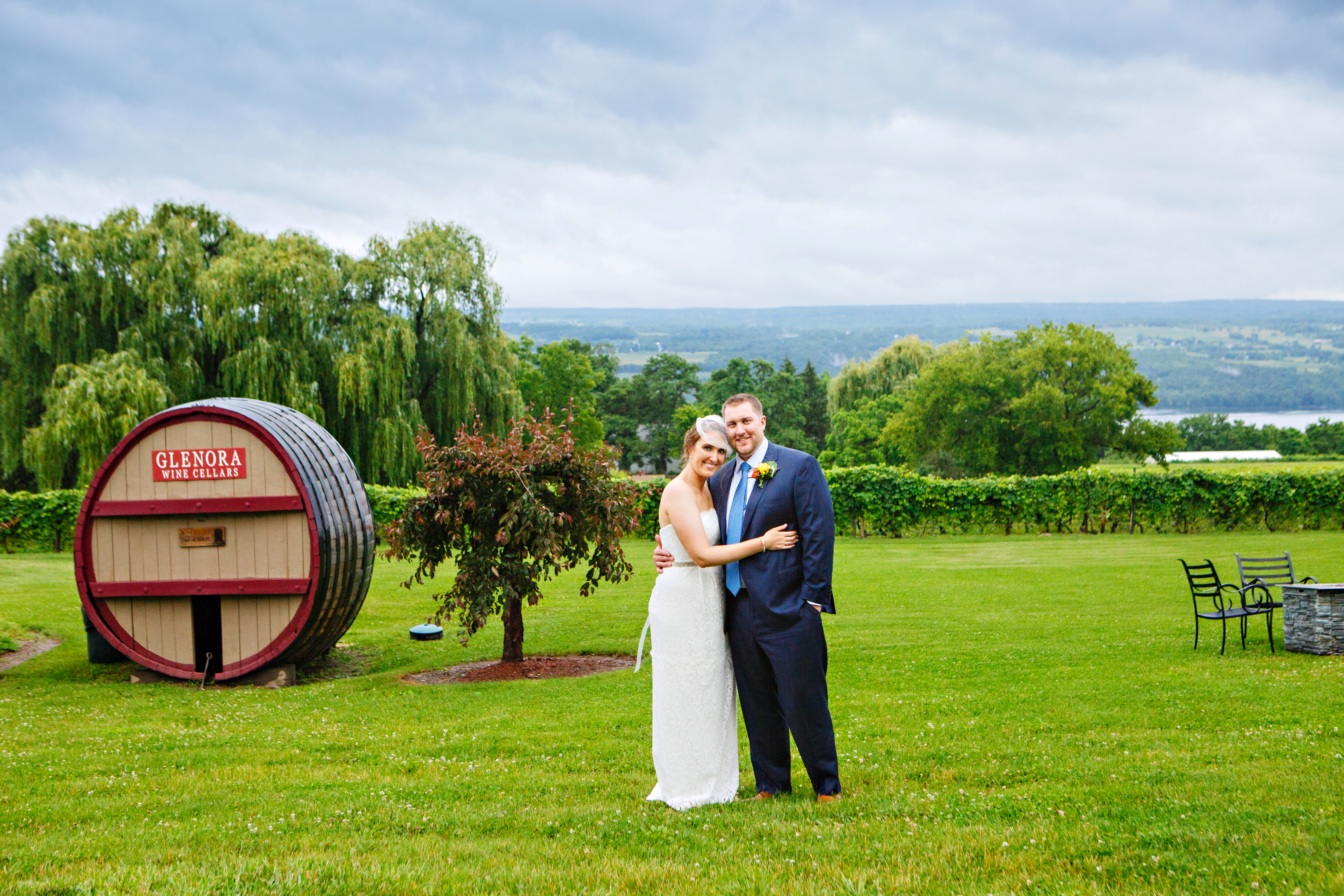 A perfect 10!
I had driven by this winery for years and always dreamed of one day getting married in front of that view! The lake and vineyard as a backdrop? Nothing better! And the fact that the wait staff, wedding planner and inn manager were all so accommodating and able to allow our wedding to commence without one single glitch was fantastic! The backdrop for wedding pictures were gorgeous as one could imagined! The food was great and their wine was loved by all! We couldn't have asked for a more perfect venue! It was everything we pictured our big day would be and more!
-Crystal & Ryan Burns, 6/6/15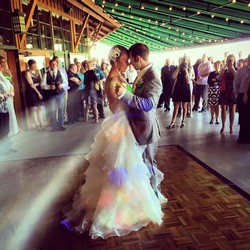 Perfect in every way!
Can't say enough about how perfect a venue Glenora is! Outside of the obvious (amazing views, unique indoor/outdoor space, great food), the personal service really sets Glenora apart. James was our wedding coordinator and he constantly went above and beyond to meet our needs. Both him and Kathy just blew us away with how hard they worked the day of the wedding...I have never been to a wedding where the wedding coordinators were so involved in every small detail. Our wedding was absolutely perfect, and much of that was due to Glenora. All of our guests raved about the venue and the food...we could not have been more pleased!
-Jessica & Mark Angeline, 8/1/15

2014
Our wedding at Glenora was absolutely perfect! The setting was beautiful and James was fantastic to work with. We can't wait to go back there to celebrate our first anniversary.
-Erika & Joe Calarco, October 2014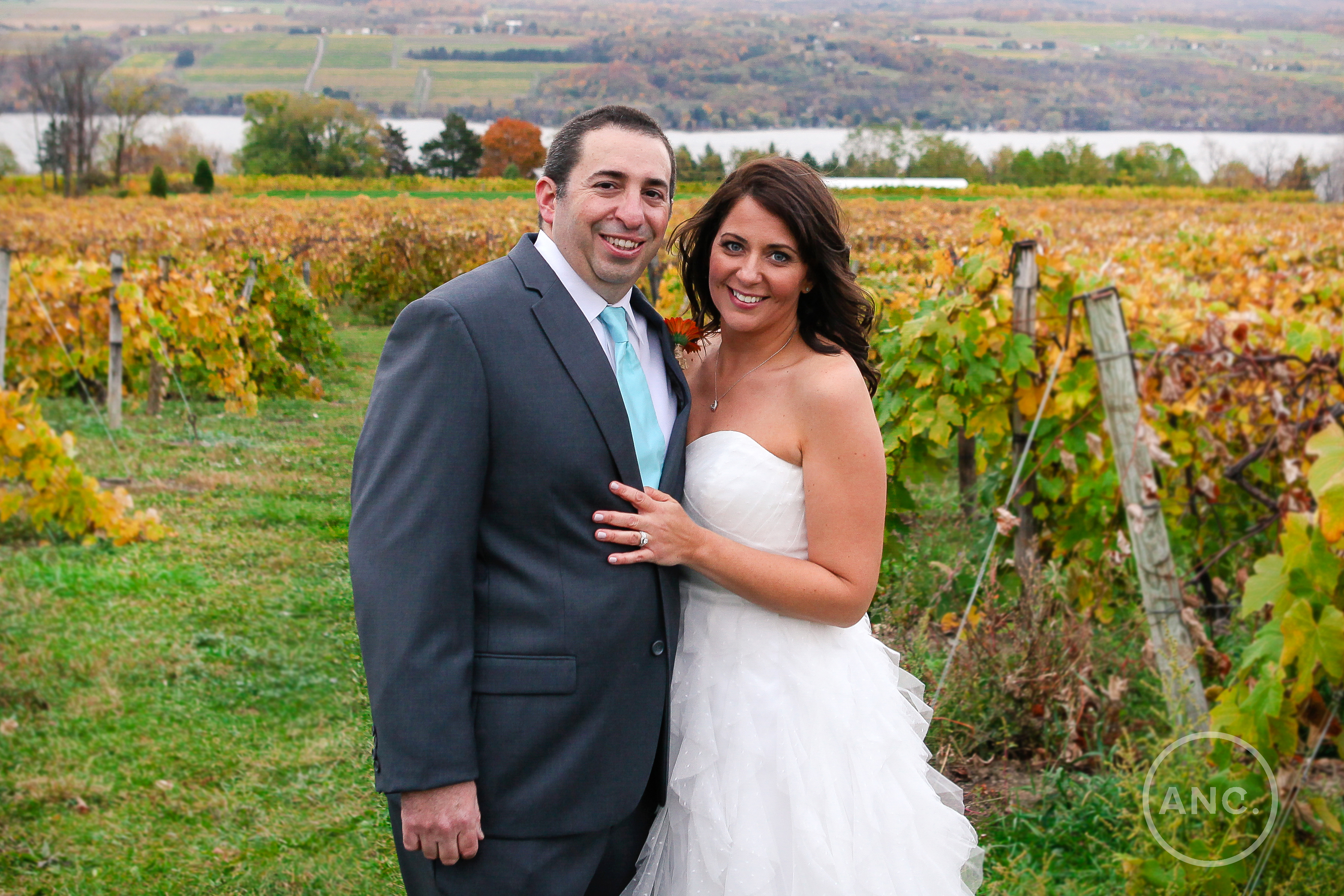 Kathy at Glenora is phenomenal! Working with her was one of my favorite parts of planning my wedding. She made everything so easy and was open to anything! She bent over backwards to make our wedding the day of our dreams. It was truly the BEST DAY EVER due to all her hard work. I promise, you will not be disappointed if you have your event at Glenora!
-Kristy & Robert Pritchard, 9/20/14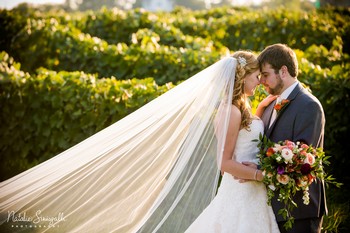 Willow Tree Dream Wedding
Never had a wedding been held at the willow tree behind the vineyards (proud to say that my husband and I were the ones to "de-flower" that tree ha-ha) but once I saw it and was standing there by the trunk and I looked up and saw the light passing through the leaves, I knew that had to be spot where I had to say I do. There are no words to describe how passionate Kathy was about my wedding. It was like she was getting married with me because she worked so hard to get that willow tree for us. It meant the world to me to have her with me that day and all the days leading up to the wedding. I didn't have a worry or care in the world that day and it was mainly because I knew she was there and would make sure EVERYTHING was perfect for me. I can't thank them enough for making it the most memorable and special day of my life. This is the place you want to book for your wedding - not only for the location, or the food, or the service - but for the personableness they give you and the piece of mind knowing that on that day you will be the happiest (and calmest) you've ever been because you have the A-Team on our side :)
-Rosie & Joe, 9/19/14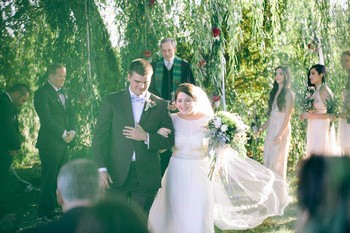 Amazing!
My husband and I got married at Glenora in July 2014. We liveabout 4 hours from Glenora, as did all of our guests, so we had very high expectations to make it worth the travel for everyone. Glenora did not disappoint. The view (best on the lake!), food, service and help from Kathy the event planner was flawless. From day one of planning, Kathy helped us with making decisions we had no idea about, and helped us pull together what all of our guests raved was the best wedding they had ever been to. Not only did Kathy do a great job with the Glenora staff, but she also helped to coordinate all of our other vendors (DJ, photographers, fireworks, etc) on the day of the wedding to make sure everyone was on point. You can't beat their beautiful facilities (indoor and outdoor just in case!) or staff. I couldn't have asked for more in a wedding venue and everyone at Glenora exceeded our high expectations. I can't wait to go back for our anniversary! :)...
-Jen & Ed Clarke, 7/27/14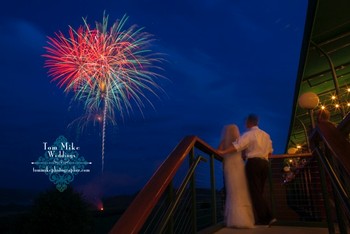 2013
Thank you for all the help you provided in ensuring our wedding was a success. Glenora was an amazing setting for our wedding, we could not have picked a better place.
-Sara & Brett, 9/7/13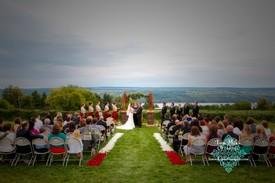 We are so grateful for the wonderful hospitality you all had shown us in planning the wedding. It was a most perfect day!! Everyone loved it and said how beautiful and how nice and supportive the entire staff was.
– The Sherman's, 10/27/13
Annette Dragon Photography
I can't believe it has been 3 months since our wedding day! We had such an amazing time and you are the main reason that the entire planning process was smooth, and that day was spent in effortless enjoyment. Thank you again (a million times over, and thank you Kathy as well)!
-Jennifer and Rob Yarbrough, 9/1/13
Photography by Richelle Hunter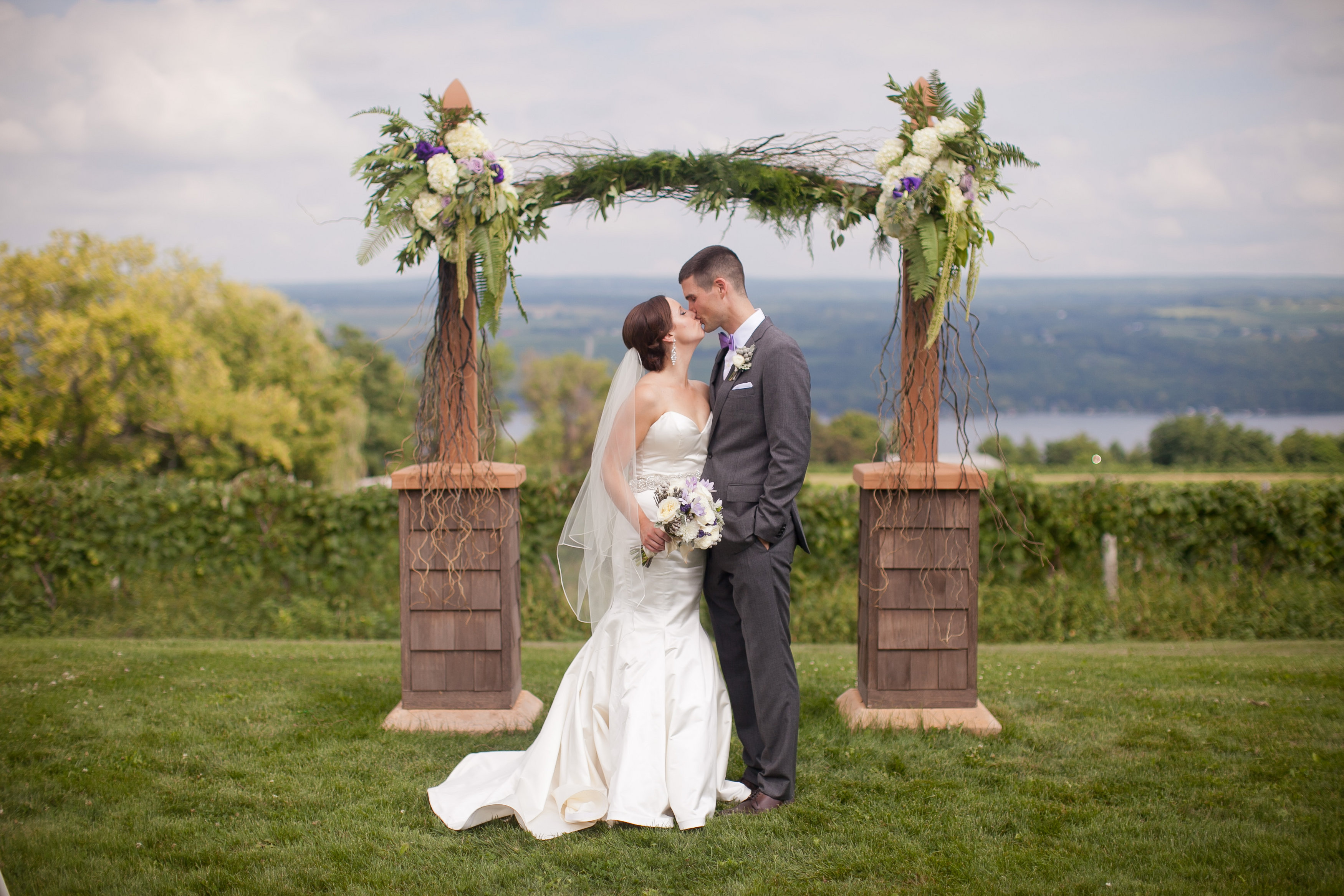 We recently got married at Glenora on 6/1/13. Kathy and the rest of the staff are ABSOLUTELY amazing. I received so many compliments on how wonderful they were. They really go above and beyond to make your day perfect. Kathy was so great to work with- she would really do anything for you! She is so sweet. I really can't say enough great things about her. The atmosphere is just gorgeous- winery, the beautiful lake, the terrace. Everyone complimented us all night on the food. Chef Orlando is just awesome.

It was so beautiful and perfect- exactly what we wanted. Almost everyone told us it was the most amazing wedding they had ever been to. Thank you Kathy & the rest of the staff.
-Tara & Randy, 6/1/13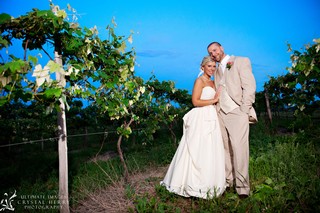 My husband and I really struggled to find a venue for our wedding. We looked at a million places before my mom mentioned Glenora. We instantly fell in love with the easily accessible and inviting rooms as well as having a guest house right off-set of Glenora for more guests to stay in. Kathy was amazing from day one. She was right in step with what I was going for and always made me feel comfortable and at ease with the process. Budgeting and payment was clearly laid out for us and made that process easy as well. One of the highlights was the food. We did an Italian Buffet and it was by far the best wedding food I've ever had, and just about all of our guests couldn't agree more. In fact, all of our guests had mentioned that they want to come back to Glenora for a weekend get-away and for the food! Also, we had several gluten-free guests. The chef made the Italian dishes gluten free for them and their plates were beautifully put together and brought to each guest who needed them. Additionally, there was another guest that I didn't know was gluten-free, but Kathy caught wind of it and immediately brought a plate out to him. Another highlight was Kathy's impeccable service. If she couldn't answer an email Chrystie was quick to respond - their teamwork is flawless.
Kathy went above and beyond. My husband and I both could go on forever on how wonderful she was to us. Lastly, staying at the Glenora was great. Our complimentary Suite was great and oh so cozy!! All of our guests were greeted with complimentary champagne at check in as well as a bottle of wine in their room. The next morning, coffee stations were set up in the hallway on top of having your own coffee in your room. Many of our guests who stayed at Glenora spent the morning on their front decks and we all ended up gathering around and sharing the morning together. It was perfect. Overall, Glenora is gorgeous and the staff makes wedding planning a breeze and fun! I highly recommend them to anyone looking for a wedding venue in the Finger Lakes area!
-Micah & Ryan Notarpole, 8/3/13
Photography by Absolute Perfection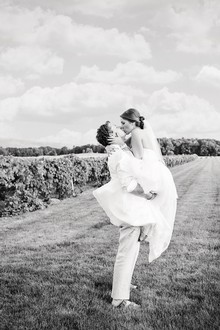 Our wedding was the most wonderful day ever! The ceremony was in the lawn and the scenery is literally breath taking. We were able to get photographs in the vineyard, under the willow tree and also down the street at the amazing waterfall. All of our friends kept telling us how beautiful everything was and that it was the funnest/best wedding they had ever been to. Kathy is the nicest person in the world! I couldn't have imagined a better wedding planner. She took care of everything and made sure our day went perfectly. We had some problems with our flowers the day before the wedding and she went above and beyond to help us. I am so thankful for her. We loved our wedding so much and are so glad we decided to have it at Glenora!
-Amanda & Chris Tubbs, 7/13/13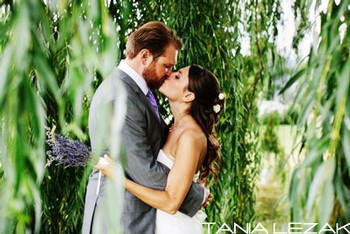 We wanted to say thank you so much for all your hard work. Your professionalism and attention made our wedding a very wonderful event. We truly felt that it was a special day and we had a great time. Along with our guests felt that the venue was beautiful and that the food was awesome!
-Linda and Travis Mullins
Photography by Dandelion Imagery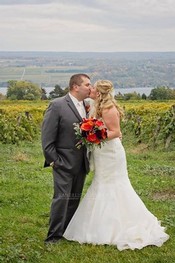 We cannot begin to thank you enough for giving us the wedding of our dreams. I cannot tell you how many compliments we received regarding the food, venue, ambiance, and service. From the start of the weekend to the end, everything was beautiful.
-Alicia Skwortz