Wine Tastings & Cellar Tours
Whether spring, summer, fall or winter, Glenora Wine Cellars offers tastings and cellar tours all year long. Located on Seneca Lake in New York's Finger Lakes Wine Country, each season offers a different and unique sight at our picturesque winery resort. We offer wine tastings and cellars tours for individuals and groups alike.
As Seneca Lake's very first winery and a staple of the region for nearly 40 years, our wines have won numerous awards. We're constantly innovating and creating new products, under the direction of head winemaker Steve DiFrancesco, who has been with us for over two decades.
From high quality sparkling wines, Rieslings, and a wide variety of red and white vinifera wines to innovative blends, dessert and fruit wines, there truly is a Glenora wine to please every palate. All of our wines are made right here on the premises and a cellar tour gives you the chance to see "where the magic happens" as we like to say.
Whether you want to plan a romantic weekend away or are just passing through while visiting nearby Watkins Glen, we're here to offer you great Finger Lakes winery experience!
Plan your tasting and cellar tour trip today, or shop our online store and have bottles shipped directly to you! To learn more, browse our website or call us at 800-243-5513.

Hours
November 1 - May 31
Sunday - Thursday 10 AM - 5 PM
Friday and Saturday 10 AM - 6 PM
June 1st - August 31
Sunday - Thursday 10 AM - 7 PM
Friday and Saturday 10 AM - 8 PM
September 1 - October 31
Sunday - Thursday 10 AM - 6 PM
Friday and Saturday 10 AM - 7 PM

Group Tasting Reservations
We encourage you to bring your group to come visit and taste with us! Groups of less than 14, including limos and buses, are welcome to walk in any time. For small group policies and tips, click here.

If you are traveling in a group of 14 or more people, you will need to make an advance reservation with credit card deposit by calling us at 800-243-5513. For large group policies and tips, click here.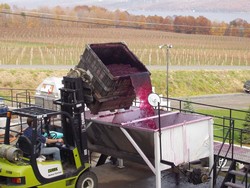 Cellar Tours
June 1 - October 31
Guided Cellar Tours are offered June through October. Go behind the scenes and experience the press deck, cellar activity, bottling, and get a glimpse of our various fermentation vessels. For your safety and enjoyment, we accept up to 20 participants per tour. Please call 800-243-5513 to make a reservation.
$10 per person (Kids 11 & Under are Free)

Staves and Steel Wine Tour
November 1 - May 31
A backstage pass to the four methods of winemaking at Glenora Wine Cellars. Taste various wines and gain knowledge of winemaking from an oak barrel, a stainless steel tank, a concrete egg, and wine made by the methode champenoise (champagne method). By appointment only, call 800.243.5513.
$12 per person