Chocolate & Wine Experience
Featuring Dimitri's Confectionary Treats Chocolate Truffles & Glenora wines
Take your visit and tasting to the next level with chocolate and wine! We've selected wines that pair perfectly with Dimitri's rich and creamy chocolate truffles. Whether you're a chocolate lover or are just looking for a unique food and wine pairing, we're sure you'll find our Chocolate & Wine Experience deliciously worth it! Chocolate & Wine is available by advance reservation only - call 800-243-5513 to schedule your tasting.
Pairings:
White Chocolate Champagne
Paired with Non-Vintage Brut -or- Raspberry Spumante

Milk Chocolate Caramel
Paired with Sauvignon Blanc -or- Audacious Apple

Milk Chocolate Hazelnut
Paired with Gewurztraminer -or- Siegerrebe

Milk Chocolate
Paired with Cabernet Sauvignon -or- Cranberry Chablis

Dark Chocolate Raspberry
Paired with Cabernet Franc -or- Raspberry Rosé
$20 Per Person

-BY RESERVATION ONLY-

Minimum of 2 people per experience. Only paid participants over 21 years of age may attend the tasting.
Please make other arrangements for your children during the Chocolate & Wine Experience.

Call 800.243.5513 to book today!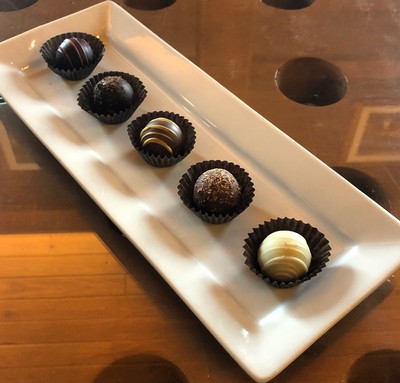 Following in the footsteps of Themistocles James Dimitri, the Freeland family opened Dimitri's Confectionary Treats in Corning in 2016. They lovingly craft handmade chocolate truffles, candies, and treats using only the finest milk, dark, and white chocolate.