Due to private scheduled events, our restaurant is frequently closed to the public.
Please refer to the schedule below, or call
800.243.5513
for Updated Hours and Reservations.
We look forward to hosting you soon!
November 2023 Hours
11/16: Dinner 5-8
11/17: Dinner 5-8
11/18: Dinner 5-8
11/23: Thanksgiving Buffet by Reservation
11/25: Dinner 5-8
11/30: Dinner 5-8
December 2023 Hours
12/1: Dinner 5-8
12/2: Dinner 5-8
12/7: Dinner 5-8
12/8: Dinner 5-8
12/9: Dinner 5-8
12/14: Closed For Private Function
12/15: Dinner 5-8
12/16: Dinner 5-8
12/21: Dinner 5-8
12/22: Dinner 5-8
12/23: Dinner 5-8
12/31: NYE Celebration
Our Focus on Regional Cuisine
With menus that change with the seasons, the Veraisons team consistently factors in quality, sustainability, food-miles, and flavor into his cuisine. Where the food comes from, the farmers, and the environment that creates it are of utmost importance.
Veraisons is a from-scratch kitchen; one in which the details matter. All of our meats, produce, and cheese come from local farms and our fish is sustainably sourced. We pickle, preserve, and put away local fruits and vegetables for the coming months, as well as make our own condiments, sauces, and dressings. Our bread is sourced from several local bakers and our desserts are designed and made in-house, including pastries and custards.

Finally, attention is paid in full to dietary restrictions and food allergies, with permanent spots for vegan and gluten-free dishes on our menus at all times for breakfast, lunch, dinner, even dessert.

We proudly source ingredients from over 30 farms in the Finger Lakes and throughout New York state. Meet our Farmers
Recognition
Named #8 Best Winery Restaurant in USAToday's 10Best Readers' Choice Travel Awards! (September 2018)
Named one of America's "Best Winery Restaurants" by Food & Wine (February 2017)
Our Dining Room & Terrace
Dine inside with the cherry trim, cathedral ceilings, stone fireplace, and expansive windows with the vineyards and lake just outside. Or, enjoy the sweet smell of the vineyards from your table on the terrace. Taste the many regional delicacies that the Finger Lakes has to offer, located just 10 minutes north of Watkins Glen.
*Please check when making reservations as our availability may be limited. Our main dining room and terrace may not be available.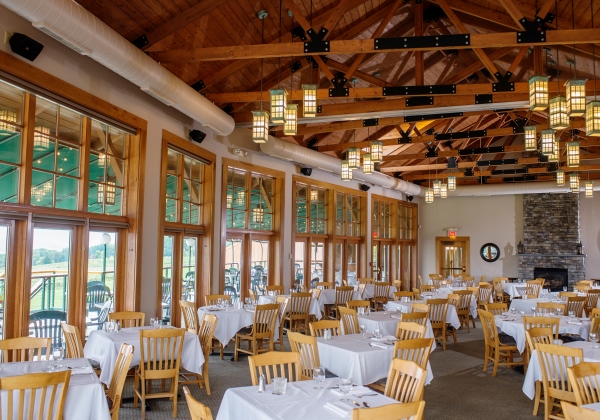 Our Wine Cellar Dining Room
Our Wine Cellar Dining Room offers dining space for private parties, corporate events and regular dining when needed. Located below our main dining room, it overlooks Seneca Lake and vineyards. It can accommodate private dinners up to 20 people and is available year round.