Wine Tastings and Cellar Tours
Glenora is open 364 days a year for wine tastings, located just 10 minutes north of Watkins Glen. Please stop in for a sampling of our wines at your convenience during our posted hours.

November 1 - May 31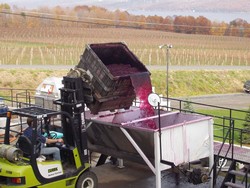 Sunday - Thursday 10 AM - 5 PM
Friday and Saturday 10 AM - 6 PM
June 1st - August 31
Open daily 9 AM - 8 PM
September 1 - October 31
Sunday - Thursday 10 AM - 6 PM
Friday and Saturday 10 AM - 7 PM

Group Tasting Reservations
If you are traveling in a group of 14 or more people, you will need to make a reservation with our tasting room staff by calling 800-243-5513
Cellar Tours
June 1 - October 31
Guided Cellar Tours are offered June through October every hour on the hour from 11am-4pm daily. For groups please call 800-243-5513 to make a reservation
$10 per person.
Children to Age 11 Free.
Staves and Steel Wine Tour
November 1 - May 31
A backstage pass to the four methods of winemaking at Glenora Wine Cellars. Taste various wines and gain knowledge of winemaking from an oak barrel, a stainless steel tank, a concrete egg, and wine made by the methode champenoise (champagne method). *By Appointment, Call 800.243.5513
$12 per person.