April 15, 2016 |
Heather Eriole
Written by Sous Chef Sarah Hassler of Veraisons Restaurant
Veraisons is not a vegan restaurant, but we have become a vegan-friendly (very friendly!) restaurant. When people learn of my passion for creating delicious meals free of animal product, they assume I must be vegan myself. My answer typically surprises people; while I am allergic to gluten and dairy, I am not, in fact, vegan.
A classically trained chef, I was taught the techniques of the French – none of which were animal-friendly by the way. There were no classes on vegan cooking; there were barely dishes to be served to the few who would attend. I was vegetarian upon entering the CIA – two months of eating polenta and mushrooms and I conceded.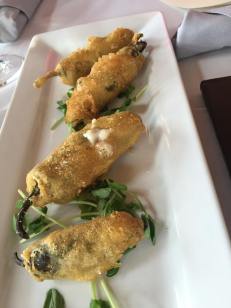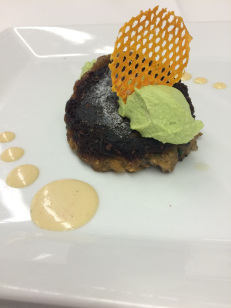 As my school days have long since passed, I have discovered that I enjoy a challenge and a direction when creating dishes. The world of food is far too vast to create and streamline a meal without some frame to work within. Anything can play the role of the framework, preferences, theme, restrictions – veganism is just one more box to work within. That is why I chose to study food and become a chef – the knowledge is far beyond what one man could hold, and the chance to transform ingredients to suit is ceaseless. Chefs are truly students for life.
Orlando and I have a lot in common when it comes to the kitchen. We lead with our hearts, cook with our stomachs, and source food with our brains. When a guest walks into our dining room, we want them to have an amazing meal and a pleasurable experience. This goes for every guest, regardless of dietary restriction.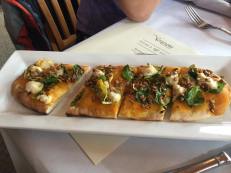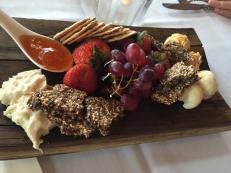 The dinner table is the place where humans come together. We all need to eat – it's that basic. Regardless of color, creed, gender, or even (GASP!) political allegiances, seated at a table we are all equally human, fulfilling that common need. Why should it be any different for people with dietary restrictions?
Some of my chef-friends argue that the folks with "legitimate" reasons for having restrictions are "ok", but those who choose to eat a certain way and expect restaurants to work around them are asking too much. To this I would reply – When did it become the right of the chef to take the choice away from the diner?
Perhaps this is a sign that we've taken our profession a few too many steps away from the blue-collar days. When we stop being grateful for the people walking through our doors and paying us to do something they could do themselves – and then post later on Pinterest! – we might want to check ourselves. The food isn't about us – it's about them.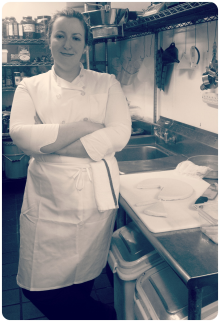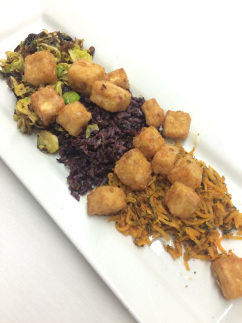 The line that vegan food is somehow more "chemical" or made "in a lab" is also antiquated. Our world is filled with factory-farms and our shelves stocked with highly-processed foods, no longer recognizable from their original state, so this seems a bit high-brow to say. The reality is that all food is chemical…and it all equates to chemical energy. See? That student-for-life line wasn't a lie!
Bottom Line:
My passion for creating vegan dishes comes from the same heart that creates dishes for omnivores. I remain endlessly grateful for the opportunity to pursue my passion as a career, to feed people delicious food, and to be consistently challenged to become a better cook…for humans.