October 27, 2019 |
Gene Pierce
It is a damp morning on this the last Sunday in October in the vineyards of Glenora and along the shores of Seneca. The temperature is 54 degrees but feels like 48 degrees due the wind which is coming from the south southeast at 17 miles per hour. The wind and the wet weather are starting to end the colors of Fall. Lake temperatures: Seneca - 56.6 degrees; Keuka - 58 degrees. Last fall must have been warmer or quieter (less rain and wind) as it was November 9th in 2018 before Keuka reached 58 degrees.
In the vineyards: It was another damp/wet week, but no monsoons! Tuesday was the "wet day" with Knapp receiving .54 inches, while CLR and Glenora received .36 inches - we did not harvest on Tuesday! The Knapp team harvested Cabernet Franc, Lemember, and Vidal (about 5 tons of the Vidal where hand-picked for "iced wine"). The CLR team finished their Riesling along with Merlot and Syrah, and the Glenora press deck team saw Cabernet Franc, Merlot, and Lemberger arrive.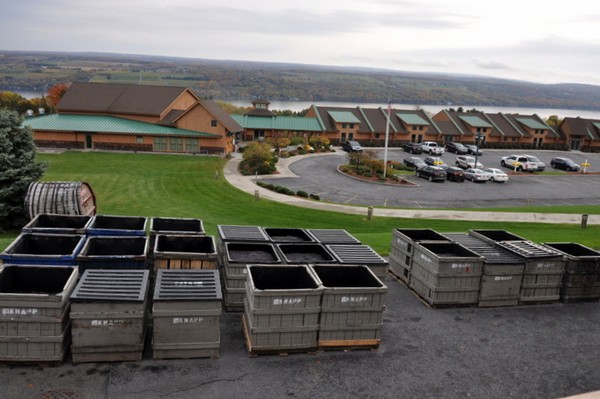 If all goes well, and it should, we will finish harvest with the Catawba being harvested at Knapp and Varick, and the Petite Verdot and Cabernet Sauvignon being harvested at CLR. As well, we plan to remove the Vidal that are in the freezer at Lakewood and press them for "Iced Wine". So it does appear that the 2019 harvest will run into November.
On Wednesday we (Tracey D. Kerry, Peter, input from Tracey M. and the editor) conferenced with our distributor, Empire North, to review year to date numbers, tweak plans for November and December, and to discuss, briefly, plans for the first quarter of 2020. We learned that, to date, the tariffs that have been imposed on imports to the United States have not had much of an impact on wine - more impact on spirits. It was also interesting to see the impact that "The Milennials" are having on/in the marketplace, especially pertaining items such as packaging (bottle size, labels), brand loyalty, and canned products. Along the canned line: Regional Sales Manager Anne sent a message noting the coffee is now being canned, and with a kick - read about here. Perhaps, as Anne suggests, we should introduce a wine based coffee!
It has been another double header wedding/reception weekend at Glenora. Our hats are off the restaurant, kitchen, and Inn teams. Back to back weddings during fall foliage season add even more intensity to the weekends (which they handle very well). And, they are doing this with a very lean staff. Thanks to everyone, you are appreciated!!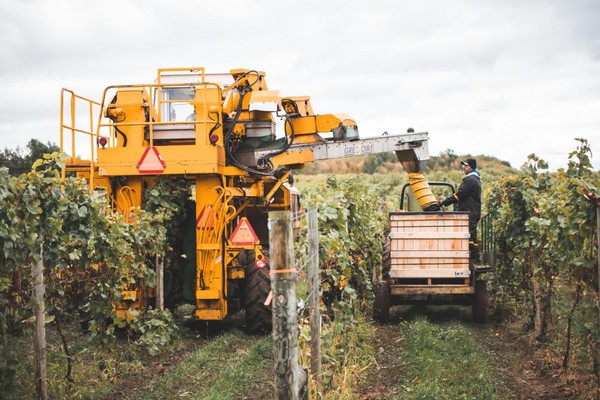 Last evening the Team at Knapp Winery Inn and Restaurant presented a themed dinner, Flannel and Foliage. Guests, most of whom had some flannel clothing, arrived to have cocktails (wine based of course) and wine on the Vineyard Restaurant's patio, then enjoyed at seasonal dinner, followed by the opportunity to go back outside to make smores. Enjoyable, unique and fun!! One has to wonder what is next?!!
The Great Debate: At Friday's Glenora managers meeting, there was discussion revolving around how Henry the XLIIIrd (that is 43rd for the non-Romans) would be prepared. Traditionally Henry "The Hogg" has been roasted, or in some cases burnt or destroyed (too much brandy??) over an open fire on a spit or on a smoker. The discussion-debate revolved around "should he be smoked, or roasted in an oven?" It seems that the group was leaning towards the oven - breaking a 42 year tradition. Time and weather will most likely dictate the venue for Henry. All of this will take place during our 43rd annual Nouveau wine celebration which will be held on Saturday November 9th - all are welcome
The editor was reminded last week that in addition to tickets still being available for the Cayuga Wine Trail's Holiday shopping Spree event and that there are still tickets available for the Keuka Lake Wine Trail's Keuka Holidays event. Lots of wine trail holiday opportunities!!
Finally tomorrow, Monday, is world Champagne Day - celebrate with a glass of Glenora's finest!
https://www.winebusiness.com/news/?dataid=80319&go=getArticle
Thought for the Week: Hope
"He that lives upon hope will die fasting." Ben Franklin