July 28, 2019 |
Gene Pierce
The sky is mostly clear over the vineyards of Glenora and the shores of Seneca on this the last Sunday of the seventh month of 2019-July. The temperature is 69 degrees with the wind coming from the south southwest at 7 miles per hour. Lake temperatures--both lakes have water temperature readings that are higher than our current air temperature (ambient). Seneca-76.9 degrees, Keuka: 77 degrees=-Keuka did record 80 degrees earlier this past week-most likely earlier in the week as a result of the very warm temperatures last weekend.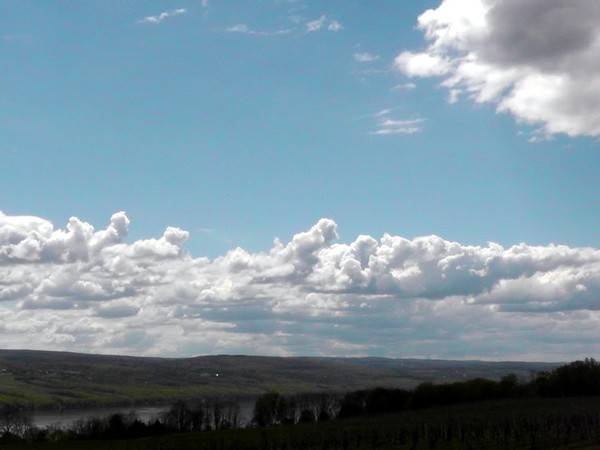 In the vineyards: It does appear that the warm weather of the past couple of weeks is bringing the growing season (degree day accumulation) closer to a normal year, however there is still a ways to go. General observations: Downy mildew can still be found in many vineyards-not a significant amount but it can be found. The same can be said for powdery mildew, again not significant but both bear watching and should be controlled if needed. The invasion of the Pacific Rim beetles has been significantly slowed by the application of protective sprays and they (the beetles) may yet have another opportunity to "taste" the protective sprays yet again.
We continue to get some early crop estimates and most seem to indicate a larger crop size than last year. We should have much better estimates during the next couple of weeks. However, it the number of phone calls from folks wanting to sell grapes is an indicator of either wine inventory or crop size (or both) there will be plenty of grapes available from the 2019 harvest.
Last Sunday's Jazz Greats at Glenora was yet another successful event. Mother Nature lent us a hand as well - a warm day, no rain, a slight breeze and some cloud cover. Between ticket sales and the number of people needed to "make the show happen" we had over 1400 people near our vineyard stage last Sunday afternoon. As always this could not, would not, happen with the efforts of Team Glenora- Full Time, Part Time, Seasonal, and Day-of Team members -- it is a well-oiled machine. Thanks go out to everyone.
All of the Regional events (FLXcurision, NY Drinks NY, The Foundations Export Group) that took place last weekend seemed to go very well also. Some of these events brought visitors, growers, wine buyers, retailers, wholesalers, and consumers from around the world - great exposure for Finger Lakes Wines and the Finger Lakes Wine Grape Growing region. We certainly appreciate all of the work that the organizers did to put these events together.
While there were not many visible Zydeco dancing lines at last evening's "Louisiana Boil" wine dinner at the Knapp Vineyard Restaurant it was evident that the wine, food, and music were enjoyed, thanks to the efforts of Chef John and his Team.
We may have to purchase a van, at Knapp, for Chef John and his Team as it seems they are having more opportunities for off-site catering. This past week they catered a very large business group at one of our winery neighbors-Boundary Breaks. If you have not been to Boundary Breaks make the time to do so. It is beautiful setting- buildings, vineyards, wine, and a great view of Seneca Lake and the western shores of the lake (a great place to watch the sunset).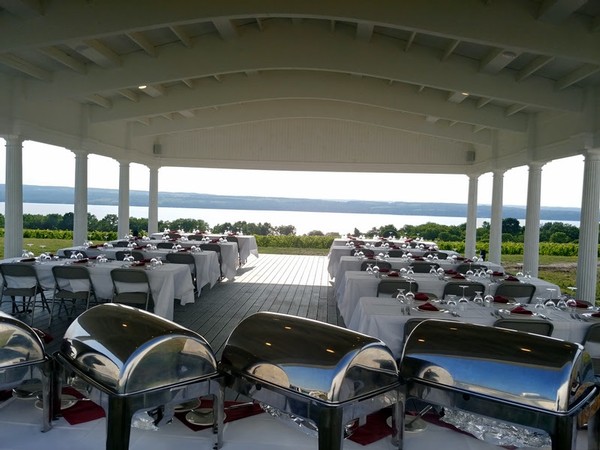 A reminder that tickets go on sale on Monday for Glenora's 2019 Leaves and Lobsters Festival. You may recall that last year's event was a sellout. As we have to advise our Lobster boat captain(s) at least 10 days in advance, once we give them an order based on ticket sales what we order is what we get-hence waiting to the last minute to order tickets is risky!
This coming Thursday evening, August 1st, Chateau LaFayette Reneau, will be hosting Mass in the Vineyards. The service, presented by Father Steve of St. Mary's of the Lake (Watkins Glen), is designed for vineyard and winery folks who find it challenging to attend Sunday services. The service is open to everyone- after which there is a social time-conversation, food, and wine. Chef Orlando provides the food and our friend Joanne is in charge of decorations and dressing the altar. Generally there is live music (appropriately, no heavy metal) as well.
Have you ever wondered what is at the bottom of Seneca Lake or what it might look like? Here is your chance to find out during the annual meeting (open to the public) or the Seneca Lake Pure Waters Assoc. -- https://senecalake.org/event-3444097?mc_cid=a77b019e07&mc_eid=fdd14b9bf5
Thought for the week: Success
You have succeeded in life when all you really want is only what you really need."