December 22, 2019 |
Gene Pierce
The sky is clear over the vineyards of Glenora and the shores of Seneca on this the first day of winter 2019-2020, which at this point on Sunday morning is only a few hours old (winter started at 11:52 PM yesterday). The temperature is 27 degrees however due to the wind which coming from the south southwest at 7 miles per hour the "feel like" reading is 19 degrees
For those of us fortunate enough to live in the Finger Lakes American Viticulture Appellation the weather conditions for the upcoming Christmas week look favorable for holiday travels. It might be a bit tough for Santa's sleigh as the warmer temperatures will most likely be the demise of the snow and "Frosty"!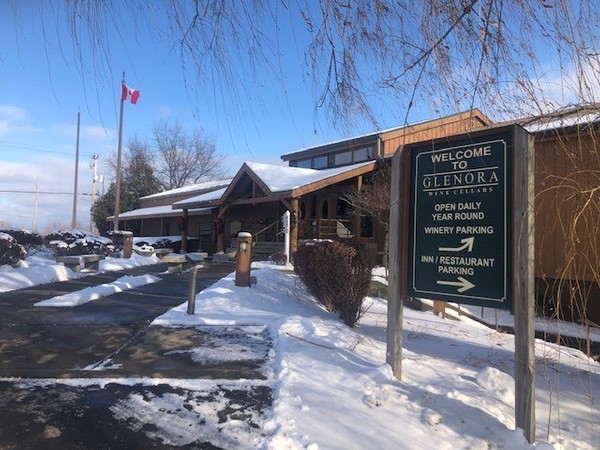 In the vineyards: The weather conditions earlier this past week did allow the vineyard teams to finish up most of their hilling-up projects. For the next 2-3 months most of the sounds coming from the vineyards will be those of the pruning shears "clicking".
In the wine cellar-production department: Another week of bottling, with a most of that involving custom work projects. The work on the chiller installation continues on. What was portrayed as a relatively simple project "appears" to have developed some complexity-hopefully it will be completed this year.
Can do-we will make it happen attitude: On Wednesday morning a customer who was visiting the Glenora retail shop commented on nice a particular gift basket that was on display looked. She then asked "Is there any way I could get 25 of those specially created by Friday?" Without a moment's hesitation Retail Shop Manager Rachel, Assistant Retail Shop Manager Tammy and their team said "yes", and on Friday afternoon the baskets which had been specially created for this customer were being carried out the door. An example of the Glenora philosophy of "We do not say no, unless it is illegal or immoral". We will have to clearly define those terms in our employee handbook!!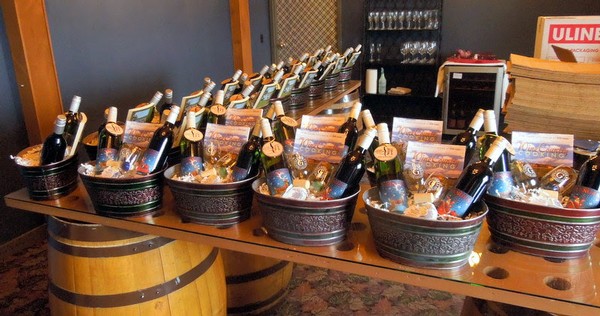 On Monday, tomorrow, we will be attending what we believe will be the last wine related, tourism related, or civic organizations related meeting of 2019 - a meeting of the Seneca Lake Wine Trail's Long Range Planning Committee. With almost all of the organizations of which most have a monthly meeting, there is a plethora of committees associated with the organizations which means that unless one is careful, meetings become a bit like quicksand -once you get in you cannot get out. It would be interesting to count how many wine and tourism organizations have been created during the past 40 years-a 2020 project!
A new addition to the Finger Lakes Wine Festival? We came across this article recently. It appears, at least according the article that festival visitors will be able see some historic race cars/evens as well during the wine festival.. It is great to see more things being added to the festival that has grown significantly since its inception in the early 1990's. More information Here.
Things will be quiet in the cellar this coming week as the cellar team will be collecting on their vacation time. It has been a busy year for the production team and as a consequence they have not taken a lot of the vacation time due them. And they are very smart-by combining vacation time, with holiday time, and weekend days they will be enjoying 10 straight days of personal time!! If they really need to rest up there is another holiday the following week. Well deserved!! We do hope that we do not forget what they look like during this extended absence.
On schedule-the new winter menus are in effect-breakfast, lunch and dinner. The kitchen and restaurant teams conducted their information tastings on Thursday - the teams taste the menu items in order to be able offer explanations to our customers when they are asked about the menu items-they did not do a wine pairing at the same time, although they do taste the new wines at the time they are released.
Congratulations go out to the Windmill Team-Terri and Erin!! Sales at "The Mill" were up 33% over last year, and 20% over the goal. 622.66 cases. Also thanks to WindMill Larry for his part in making sure we were set up for action each week.
Since it is close to the last week of the year it is time to consider New Year's resolutions/ideas: New wines, new labels, new markets, new programs-what is working, what is not working-it will be a new decade in a few short says-the third decade of 21st Century - do you know when it (the 21st century) began?
Merry Christmas!!!
Thought for the week: A Smile
"We shall never know all the good that a simple smile can do."