October 24, 2019 | Heather Eriole
Vertical Tasting Proves the Finger Lakes Deserves a Sparkling Reputation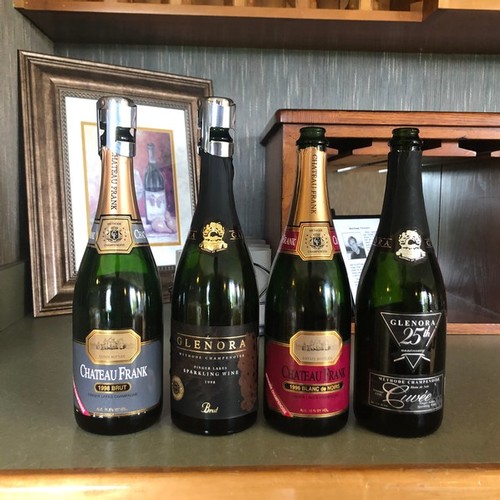 On August 27, Glenora hosted a once-in-a-blue moon tasting as tastemakers and wine industry figures from around the region joined us to taste sparkling wines from 1986-1998 from both Glenora Wine Cellars and Dr. Konstatin Frank. What started as a simple conversation between associates ended up a much more complex conversation about the climate, conditions, and potential of the Finger Lakes.
With the assistance of Paul Brady from the New York Wine & Grape Foundation, tasters assembled in the Wine Cellar dining room at the Inn at Glenora. Taking part in the tasting were: Christopher Bates (master sommelier and owner, Element Winery & FLX Hospitality), Jason Wilson (Writer, Vinous), Meaghan Frank and Eric Bauman from Dr. Frank, Gaia Bonadeo (wine importer), Morten Hallgren (former winemaker, Dr. Frank, co-owner and winemaker, Ravines Wine Cellars), Brian Butterfield (bar director and sommelier, Kindred Fare), Rachel Hadley and Steve DiFrancesco from Glenora, and Bob Madill (brand manager, Glenora Wine Cellars).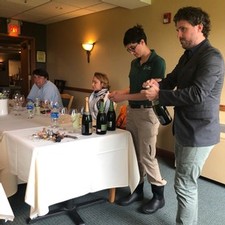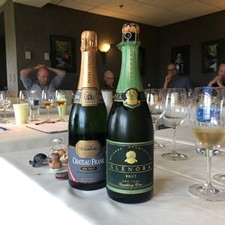 Each round of tasting presented similarly-matched pairs of sparkling wine, one each from Glenora and Dr. Frank. The group tasted Blanc de Blancs, Blanc de Noirs, and Brut from seven different vintages. Conversation flowed – how did weather patterns affect a particular vintage, how had oxidation and autolysis changed the wines, and did the change in winemaker from tirage to dosage have an effect on the result?
Overall, tasters were wowed by the positive effects of aging and the overall effervescence of these bubbles. Brady noted "the freshness and complexities; ripe fruit and herbal flavors; textures and unique aging attributes that the majority of these wines had developed." Winemaker Steve mentioned that the '95 Brut from both Dr. Frank and Glenora were real stand-outs for him – the Dr. Frank for is light yeastiness and low dosage, the Glenora for its strawberry notes and great balance. What grabbed Bates? While he found each separate vintage interesting in their own right (and "far better than (he) anticipated"), he was blown away by the '91 and '92. His praise was effusive – "fresh, bright, textured, with the obvious signs of age and autolysis to add interest and texture and depth, but with a purity and focus that made them snap." And while commendation can go a long way, Christopher took it one step further – he took the leftovers to a trade dinner in Toronto, sharing the '89, '91, and '92 with Canadian master sommeliers.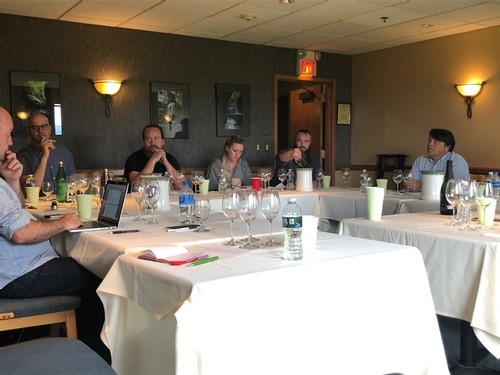 While many think of the Finger Lakes as a Riesling powerhouse, the region has long produced beautiful reds, crisp whites, and stunning sparkling wines. This tasting reinforced the belief, for Bates, that good wine isn't good enough here. "We have the potential to produce GREAT wines here in the Finger Lakes, and these 30 year old bubbles (prove) exactly that."