August 4, 2019 | Gene Pierce, glenora gazette, summer, wine & winemaking | Gene Pierce
The Glenora Gazette, Vol. 4, No. 8-19
We have a somewhat cloudy sky over the vineyards of Glenora and the shores of Seneca. The temperature is 65 degrees with the wind coming from the northwest at 4 miles per hour. The forecast for later today looks ideal for the NASCAR race this afternoon at Watkins Glen International. Lake temperatures: Seneca-78.4 degrees; Keuka-78 degrees (more on lake temperatures in a bit).
In the vineyards: It was another one of those "it depends on the vineyard location weather weeks". For example: on Tuesday evening between 6-7:30 our Glenora vineyards received 1.71 inches of rain - 1.97 total inches for the day. That amount of rain in such a short period of time is what the ole farmer would call "a gully washer," except this has happened so much recently that there is nothing left in the gullies to wash out. Meanwhile during the same time frame, our Knapp Vineyards received .77 inches of train and 10 miles north of Knapp and 25 miles north of Glenora the research station at Geneva did not get any rain. The vineyard team at Knapp is reporting that the Siegerrebe grapes are starting to soften (showing signs for early ripening) and that we can expect to see some veraison (the grape berries getting some color) taking place next week. Once that starts to take place, the bird wars will be on. The birds start to eat the grapes once they change color (ripen) as even birds do not like sour grapes.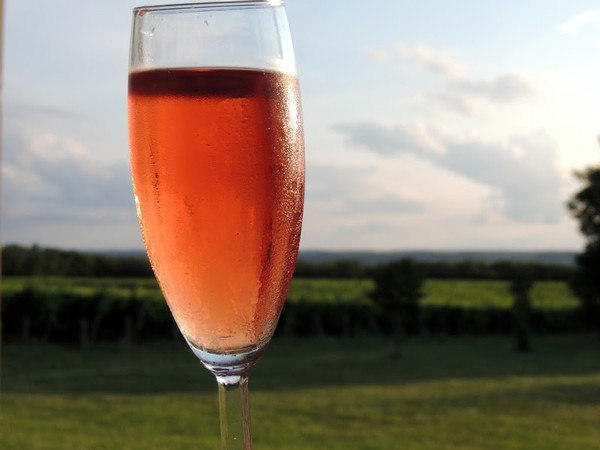 More on temperatures - Before all of the Keuka residents move to Seneca seeking warmer water, some explanation: the Seneca lake temperature is recorded by Hobart and William Smith colleges. The temperature is taken at a buoy located off Clark's Point with the water temperature being taken hourly at a depth of 3 feet (actually 1 meter). The Keuka Lake temperature is recorded daily by the Village of Penn Yan Municipal Water Department. That temperature is taken at the inlet to the water plant which is at a depth of 20 feet. At which level do most people swim, tube, or waterski?
More information: http://fli-data.hws.edu/clarkpt/ https://www.keukalakeassociation.org/charts/keuka_lake_temperature.php
If you are a history buff, there will be Military re-enactors representing American soldiers from the Revolutionary War to World War II at the Seneca White Deer Park at the former Seneca Army Deport on Saturday, August 17 .The reenactment will present a living time of that period The editor observed something similar to this at Fort Niagara a number of years ago-realistic, educational, and enjoyable.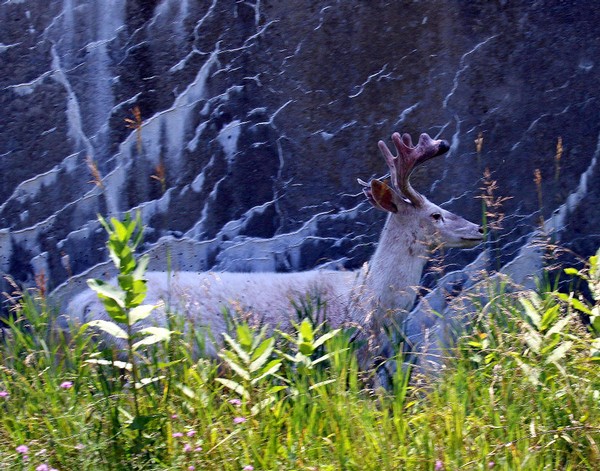 Moscato, our newest wine release, seems to be a success. While it was scheduled to be released on August 1, we did a prerelease in the retail shop and during the first 10 days 229 bottles were sold. The wine will be in retail shops, statewide, starting on Tuesday!
On Friday morning, we held another meeting to review the wine production needs and consequent grape needs from and for 2019. This always is a bit of a moving target as we review our current wine inventories (which we know), look at projected sales for the balance of 2019 and 2020 and with some varieties 2021 (which is an estimate-but well-calculated), and the projected vineyards yield (which at this point is also an estimate). Knowing (or estimating) all of this we will finalize the wine production needed by variety, and in instances where we may have extra grapes begin to look for buyers. In the event that we may need grapes we will advise those who grow grapes for us what we will be needing. Next steps: Winemakers Steve, Rachel and Tim will be heading to the vineyards to start to gather samples to check on the status of ripening.
This past Thursday we hosted Mass in the Vineyards at Chateau LaFayette Reneau. It wast special for those attending as Sarah, our assistant retail shop manager, sang "Ave Maria." Sarah has a beautiful voice which she is very willing to share - Thank you Sarah for making the Mass a bit more special. When we are visited at CLR by World War Two veterans, we see many due to our location close the former Sampson Army/Navy base Sarah will often sing songs to them from that era-lots of moist eyes!!
A reminder that the Knapp Vineyard Restaurant Team will be hosting a unique dinner on August 24 when they present their Seafood and Sunset picnic-held outside next to the vineyards. For more details and reservations (they are going fast) CLICK HERE. We have arranged for the sun to set at 7:56 PM, and twilight will end at 8:25 PM (in other words, it will be dark at that time.)

Thought for the week: Prattle
"Blessed is the person, who having nothing to say, abstains from giving wordy evidence of the fact."