November 3, 2019 | Celebration, Events at Glenora, Fall, Finger Lakes Wine, Finger Lakes Wine Country, Gene Pierce, glenora gazette, Harvest, Harvest 2019, Seneca Lake Wine Trail, wine & winemaking, Wine Tour | Gene Pierce
The Glenora Gazette, Vol. 3, No. 11-19
The sky is partly cloudy on this the first Sunday of the 11th month of 2019. The temperature is 36 degrees with a feel like reading of 30 degrees - a result of the wind which is coming from the west south west at 3 miles per hour.
Lake temperatures: The Seneca Lake recording buoy located at Clark's Point (Roy's Marina, or east of Vonnie's and Port's restaurant) has been removed for the season, hence no more Seneca Lake temperatures until 2020. Keuka, where the water temperature readings are taken at the municipal water plant in Penn Yan is recording 57 degrees. It has been interesting to follow the graphs that show the water temperature on Keuka. Ever since the middle of June the water temperature has been lower than it was at any given time in 2019 - a reflection of the weather pattern this year. It was cooler which also is an indicator for the lower Brix and higher acid levels in the grapes this year. Last year it was November 14th before Keuka reached 57 degrees.
In the vineyards: Another monsoon week, or at least the later part of it when we received 1.48 inches of rain on Thursday evening at all of the vineyard locations. That was followed by "hurricane type wind" (at least it seemed that way) on Thursday evening and most of Friday. The Knapp Team wrapped up their 2019 harvest by picking their Catawba on Wednesday afternoon. CLR harvested Merlot and Cabernet Sauvignon and had plans to harvest the Mason Road Cabernet on Friday as well as Petit Verdot at CLR, but the rain and wind stopped that. The Mason Road Cabernet Sauvignon vineyard is on a bit of a slope, good for air drainage, but not good for harvesters, tractors and bin trailers after an inch and a half of rain. Those grapes will be harvested on Monday and that will finish the harvest season - November 4, 2019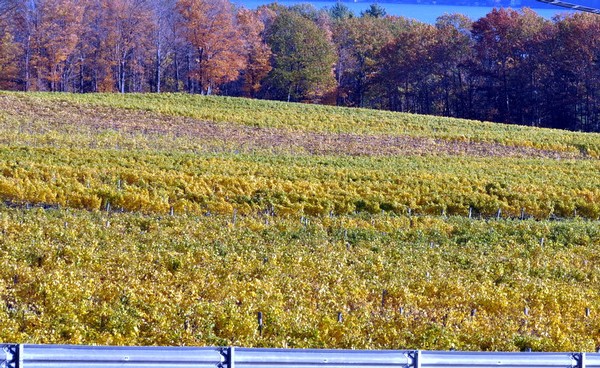 The vineyard teams will be winterizing equipment this coming week as the forecast is for temperatures declining to the lower 20's on Thursday and Friday, with 2.7 inches of snow on Thursday. Sad news for any grapes still not harvested (and there seem to be quite a few) unless they are planned to be used for ice wine.
In the cellar and on the press deck: This past week, the press deck team emptied the red fermenters that contained Merlot, Cabernet Franc and Lemberger. The grapes had been in the fermenters close to a week (color extraction) before being pressed. This coming week, the Cabernet Sauvignon from Mason Road will be put into the tanks. Given the predicted cold temperature we are very glad our red fermenters are jacketed and can be warmed.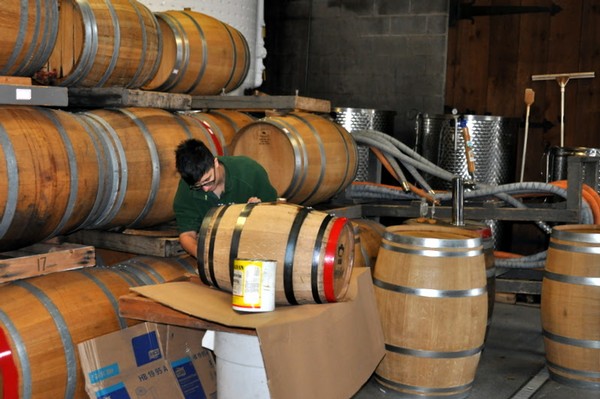 On Thursday, Kerry, Mitchell, Rachel, and the editor met to review plans for Deck the Halls number one. This will be the first Deck the Halls event for Mitchell and Rachel. The wine trail has sold tickets that will bring 3100 people to the trail. Historically we see 87% of them which would be approximately 2700 guests. We will be serving a holiday gourmet soup to each visitor - a half of a cup or 4 ounces. When multiplied by 2700 potential visitors that equals 10,800 ounces of soup or 84.375 gallons of soup. We will make 90 gallons as woe would be us at the next wine trail meeting if we were short of soup by few ounces - a public wine trail flogging! We also discussed staffing - 22 team members will be needed on Saturday which is the busiest day.
It was yet another double header wedding weekend at Glenora with weddings and receptions taking place on both Friday and Saturday. Today, Sunday, we have a group of 55 people who will be joining us for lunch and then a tasting. As part of the tasting, the editor will be giving them a brief history grape growing and wine production in the Finger Lakes viticultural area and at Glenora.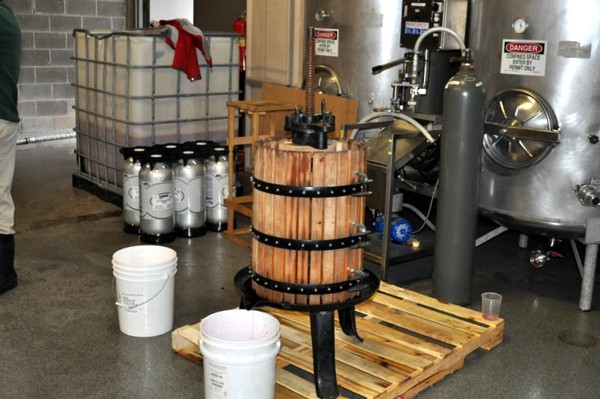 Finally the power of social media, websites, etc.. Several of the folks (many were millennials) who attended last Saturday's "Flannel and Foliage Dinner" at Knapp's Vineyard Restaurant had found the information by viewing the Cayuga Wine Trail website and then the Knapp Wine site. Almost all of the attendees were from outside the area-Philadelphia, Boston, etc. and had been looking for something to do while visiting Finger Lakes Wine Country - we have several new friends!
According the weather gurus the dress code for next weekend's Nouveau event at Glenora may include Carharts! But not to fear, as Maintenance Engineer Joel and his team have plans to bring in portable heaters-the ones that meet all of the building code (in this case tent) specifications.
Thought for the Week: Laughter
"The most wasted of all days is one without laughter."