July 14, 2019 | Gene Pierce, glenora gazette, summer, wine & winemaking | Gene Pierce
The Glenora Gazette, Vol. 14, No. 14-19
The sky is clear over the vineyards of Glenora and the shores of Seneca. It seems that it will be another great weather day for the Finger Lakes Wine Festival. The temperature is 64 degrees with the wind coming from the west-northwest at 5 miles per hour. Lake temperatures: Keuka-77 degrees; Seneca-73.8 degrees.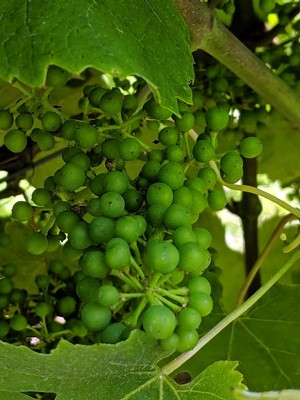 In the vineyards: There does seem to be a bit of calmness appearing there! Although there is still a lot going on, but many of the early season work pressures seem to be a bit lighter. Currently, the vineyard teams are applying protective spray, doing summer pruning on some varieties and of course the ongoing mowing. It will not be long before they will head to the storage barns and shops to start bringing out the harvest bins, the bin trailers, and the harvester all to be fine-tuned in preparation for up coming harvest-perhaps in six weeks. The reports that we receive from the Finger Lakes Grape program seem to be indicating that we are catching up on degree-day accumulation, and while no one makes crop size projections it does appear that the crop should be of a "normal' size. The scales at the wineries will tell us for sure.
It has been another busy week at the Inn and Veraisons with conferences and seminars taking place on Monday, Tuesday and Wednesday and a wedding and reception yesterday. It is great to see the parking lot full.
All three wineries - Glenora, Knapp, and Chateau -- are at the Finger Lakes Wine Festival which is being held at Watkins Glen International this weekend. We understand that this is the 23rd year that the festival is being held there. For the history buffs, the Festival got its start when Doug and Susie Knapp (the founders of Knapp Vineyards) came up with the idea in the early 1990's and started the first festival which was held at the New York State Chiropractic College grounds near Seneca Falls. The first event was relatively small (Glenora was there) but very successful. The event grew to a point where it needed more time dedicated to it than Doug and Susie and their team could give to it (remember they were operating a winey, vineyard, and restaurant at that time as well). So consequently, they looked for other venues to host with the festival consequently winding up at Watkins Glen International - a bit of a leap of faith for WGI as they are a racing facility not, at that time, an events promoter. We are quite confident that many of the other venues who had the opportunity to host the festival but turned the opportunity down are now having many second, third, and fourth thoughts. A great example of Risk and Reward!
In any event, thanks go out to our teams who are there this weekend!! It is very intense in terms of preparation, set-up, selling and take down. Between our three wineries and the two days of the event we will have over 60 different team members taking part at some point. And while that is taking place -- all three tasting rooms will be open and functioning, the restaurants will be serving breakfast, lunch, and dinner, a wedding and reception will be/was held, the Inn will be full,and the Windmill team will be at "The Mill" selling. Thanks go out to all.
This coming weekend July 20-21, and a day or two on either side of the weekend, will be a four ring circus for us as we will be participating in the NY Drinks NY program, the FLXcursion, an export program (visitors from off shore for a tasting and lunch), and our Jazz Greats at Glenora. Fortunately, we have events traffic controllers (Kerry and Heather) similar to air traffic controllers who will keep us all going in the right direction and at the right time. What makes this even more exciting is that it seems, other than the Jazz Greats at Glenora event, the planning and implementation for some those events is still is a state of flux-lots of last-minute e-mail requests with very short deadlines (we need this tomorrow, or by 5 PM today) but as usual our events traffic controllers are on top of it!! Thank you!!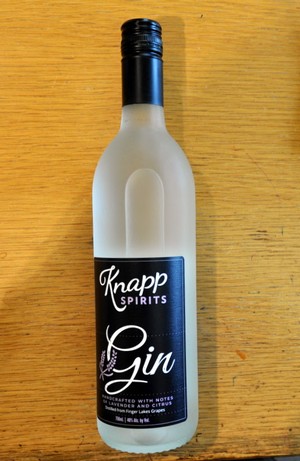 The Knapp Team -Rachel, Belinda and John - released their newest product on Friday - a lavender and citrus infused Gin. The Gin was made from grapes grown in the Knapp vineyards, then fermented and distilled. The packaging is a bit unique in that the Gin is packaged in a frosted bottle and has a Stelvin closure (screw cap). Early reports are that it adds a unique taste/flavor to that Summer Time favorite, gin & tonic.
There may be yet another new package type coming from our wineries in the future. Definitely not a can, as our motto is "Don't Get Canned - Bag It". Another project!!
Did you know Glenora has its very own highway department? Have you noticed the recent addition of paint striping on the entrance/exit of our southern driveway? Thanks to a great job by Joel and his team, hopefully we'll have no more lost cars.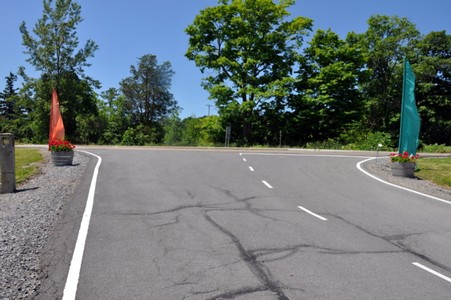 Thought for the week: Thoughts-Words (Which might explain some e-mails)
"The pen is the tongue of the mind."