October 13, 2019 | Gene Pierce, glenora gazette, Harvest, Harvest 2019, wine & winemaking | Gene Pierce
The Glenora Gazette, Vol. 13, No. 10-19
The sky over the vineyards of Glenora and the shores of Seneca is clear this morning, The temperature is 37 degrees but feels like 33 degrees as a result of the wind which is coming from thesouth west at 5 miles per hour. Lake temperatures: Seneca - 60.9 degrees; Keuka - 63 degrees. It was interesting to note that one year ago on the same date Keuka's temperature was 72 degrees, a much warmer Fall than this year!?
In the vineyards: The week started out on a very wet note. It was Monsoon Monday with the vineyards at Knapp receiving 1.26 inches of rain, while the vineyards at Glenora and Chateau LaFayette Reneau received 1.21 inches. After the monsoon season ended this week, the weather quite nice - a mostly dry allowing harvest to continue at more or less full swing. The Press Deck Team at CLR brought in Pinot Noir, Chardonnay and Cabernet Franc (Rose). The Glenora/Knapp Press Deck Team brought in Isabella and Riesling. The end of this coming week will be the week, the 20th, will be the time when some winemakers come to the realization that there may be only one week left to harvest-as generally speaking the end of October marks the end of harvest due to cold weather and frosts. There are still a lot of grapes to be harvested.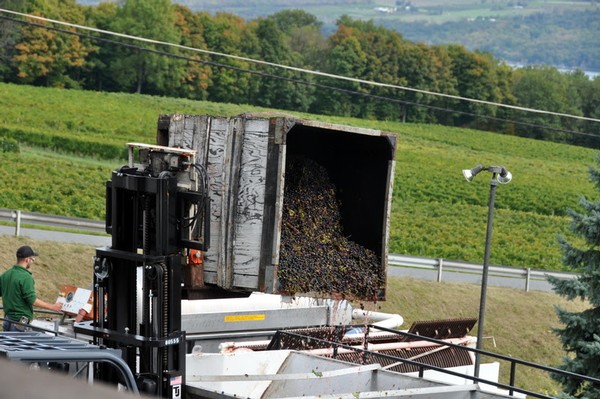 Rachel and Steve continue sampling and monitoring the vineyards. In general what we are observing is that while the acid in the grapes is dropping (good thing), the sugar levels are not increasing at the same rate - hence the reason for the delay in harvesting. What always needs to remembered is a harvester can only cover so many acres in a day and the press decks can only handle so many tons per day. In other words, for some it could be getting close to crunch time. Fortunately for us our vineyard teams, harvest teams, press deck teams and winemakers are on top of all of this for us-we are in good shape!
We were visited this past week by the Town of Starkey Code enforcement officer. He generally visits us once a year to make sure we are incompliance with building and safety codes. Joel, our Maintenance Engineer, escorted him through all areas of all the buildings on the property. We passed with flying colors with only a couple of small details to be corrected (purposely left so that the Code Officer has something to write about).
Thanks go out to the restaurant and kitchen teas as they have their Thanksgiving Dinner menu created and it now on-line. They are also working their New Year's Eve menus and party plans.
It is another double header wedding/reception weekend for the teams at the Inn, Veraisons, and the kitchen. A wedding yesterday, a wedding breakfast this morning and another wedding this afternoon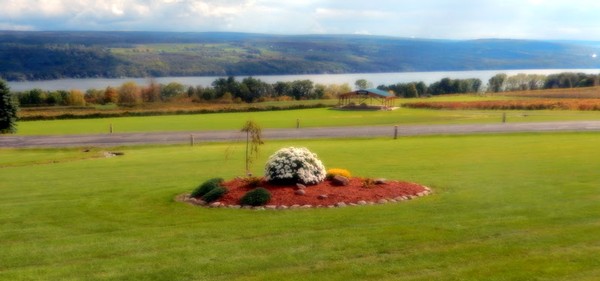 Regional Sales Manager Anne reported that the Buffalo Trade show went very well for us. She noted that there very few restaurants in attendance due to the fact that it was Restaurant Week in Buffalo and that there were 250 restaurant participating in that event, Let's look at this closer: 250 restaurants in Buffalo, if each purchase one case each month of our wine that would be 250 cases which then multiplied by 12 months would total 3000 cases andthat is just in restaurants-it does not count the wine shops.
Yesterday Peter. the offsite sales manager at CLR, and his wife Janine represented our wineries at the Greek Peak Resort. While the event was titled Hops and Swaps there were wineries, distilleries, local food/produce vendors and even some cigar folks there. We have presume the 'swap part had to do with ski equipment!
The logic (or lack thereof) of group thinks: 18 months ago the members of the Seneca Lake Wine trail met to consider ways to increase visitors to the trail. One of the ways to measure the success was to establish a goal of a 5% increase in winery visitation each year - based on visitor reports from 15 reporting wineries, there were roughly 500,000 visits to those wineries in 2018. Since there are 32 member wineries, it is logical to presume there were around 1,000,000 winery visits in 2018. Increasing the number by 5 % a year over the next five years would indicate that we can expect the attendance at end of 2023 to be in the area of 1,276,281 visitors, or an increase of 27.6% Mission impossible -NO!! Mission Challenging -Yes-More to come.
We have a new wine menu at Veraisons. We try to change our wine list at least twice a year. The list obviously contains Glenora, Knapp, Chateau wines. It also includes other Finger Lakes wines, wines from other parts of the US and also some from offshore. We do this as our visitors come from all parts of the US and the world so we feel a variety of wine offerings is necessary.
Thought for the week: Worry
"Worry never robs tomorrow of its sorrow, it only saps today of its joy."