November 24, 2019 | Celebration, Events at Glenora, Finger Lakes Wine, Finger Lakes Wine Country, Food, Gene Pierce, glenora gazette, Seneca Lake Wine Trail, Steve DiFrancesco, wine & winemaking, Wine Tour | Gene Pierce
Glenora Gazette, Vol 24, No. 11-19
It is a cloudy, damp morning on this this last Sunday in November over the vineyards of Glenora and along the shores of Seneca. There are and have been a few flakes (snow) floating about on occasion. The temperature is 35 degrees with a feel like reading of 32 degrees, a result of the wind which is coming from the northwest at 5 miles per hour.
Lake temperature: Keuka - 47 degrees. The somewhat rapid decline in the lake temperature is beginning to slow. The lake is now at the approximately the same temperature as it was a year ago at this time which means we should be seeing a lake temperature reading of 43 degrees on December 31 -the turn of the decade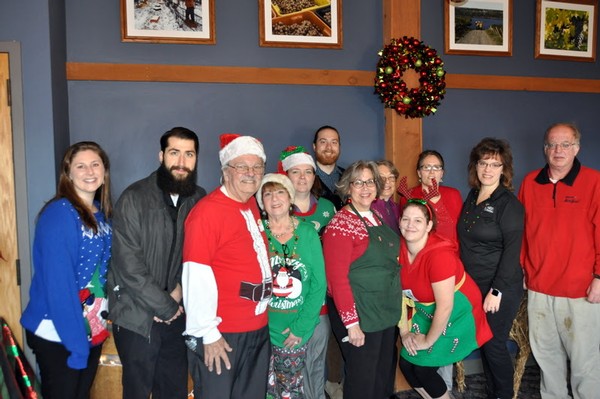 Thanksgiving forecast (weather): A cloudy day with a temperature high of 35 degrees and a low of 26 No precipitation!
Vineyard news: The vineyard teams continues their work on late season trellis repair - replacing broken posts, repairing broken trellis wires (not many of those these days), repairing end post anchors, and beginning to get pruning weights which will be used to determine the amount of fruiting buds to be left for next year's harvest. It is also DEER season!!
In the wineries: The Winemaking Team at CLR (Tim and Walrus (Wally)) emptied the last of their red fermenters this past week (Cabernet Sauvignon) and have started to dismantle their press deck - meaning putting the press, must pump, pumice elevator and other small pieces ofequipment be placed into winter storage. The harvest bins will soon follow.
At Glenora and Knapp winemakers Steve and Rachel report that all of the wines that are supposed to have gone through malo-lactic fermentation have done so with one exception. They, the wines, are close to being 3-4 months ahead (malo-lactic fermentation) of where they have been in some previous years - another benefit of our lees floatation device which allows us to start fermentations much earlier.
The production team had the bottling line, the disgorging line, and the pouch line all in operation this past week. There are no deer chasers in this department!!
It is wine trail event weekend on both the Seneca Lake and Cayuga Wine Trails. The Seneca Lake Trail has just over 3200 people participating and the Cayuga Trail has just over 1700 people participating. The Glenora Team offered Carrot Ginger Soup as their food pairing - prepared by the Veraisons Culinary team led by Chef Mitchell. Knapp and CLY offered Wild Mushroom Cabernet Sauvignon Soup as their food pairing created and prepared by Chef John, Knapp Vineyard Restaurant. Combined there were over 250 gallons of soup made for the weekend. A bit of irony -- Several; years ago the Seneca Lake Wine Trail started many of their events on Friday afternoon. While customer count was low on Friday for the first few years it has grown significantly, where now close to 18-20% of the three day visitor count participates on Friday. On Friday the CLR team hosted 612 visitors and the Glenora Team hosted 528 DTH visitors.
If you would like to create your own Sparking Wine for the holidays and other special celebrations there is only one opening on Saturday December 14 and three on Sunday December 14 for our Dosage Your Own event. You will work with Winemakers Steve and Rachel, who are assisted by Vice President of Production Tracey and General Manager Kerry. Upon completion you will not only have your own sparkling wine but you will receive the coveted "Glenora Certificate -- Master of Dosage" thus allowing you to put the initials -"GWCMOD" after your name or signature.
On Friday, Winemaker Steve gave us an update on his Glutstar gluthione project. Steve is working in cooperation with one of our fermentation product suppliers using this material which long story short attaches to the aging-oxidation materials/elements in wine during fermentation, by doing this winemakers will be able to use less anti-aging materials in their wines. Steve is looking into this for Homo sapiens. Winemaker Rachel, being much younger, is not involved/\.
The waving of the green flag marking the beginning of Great American Business Race to the Bottom will occur on Friday-Black Friday; again on Saturday -small business Saturday; and yet again on Monday - Cyber Monday. Those businesses in the race, almost all, "race" to see who can entice customers with the largest discounts or give a ways. The real winners (businesses) in this race might be those who come in last.

Thought for the Week: Progress
"Never retreat. Never explain. Get it done and let them howl."