December 15, 2019 | Celebration, Events at Glenora, Fall, Finger Lakes Wine, Finger Lakes Wine Country, Food, Gene Pierce, glenora gazette, Inn at Glenora, Seneca Lake Wine Trail, Steve DiFrancesco, Veraisons, Veraisons Restaurant, wine & winemaking, Wine Tour, Winter | Gene Pierce
Glenora Gazette, Vol 15, No. 12-19
The sky is cloudy over the vineyards of Glenora and the shores of Seneca on this this second morning of Dosage Your Own Weekend at Glenora. The temperature is 34 degrees, with a feel-like report of 24 degrees which the result of the wind which is coming from the west at 14 miles per hour. Lake temperature; Keuka - 42 degrees, one degree cooler than it was on December 31, 2018 - Global cooling?
In the vineyards: The vineyard teams started the week walking through 8-10 inches of snow, which by mid-week had melted creating some mud. However in certain locations it was dry enough to finish some of our hilling jump project. Of course pruning goes on. We will bring in our documented worker team soon after the first of the year to assist us with the pruning.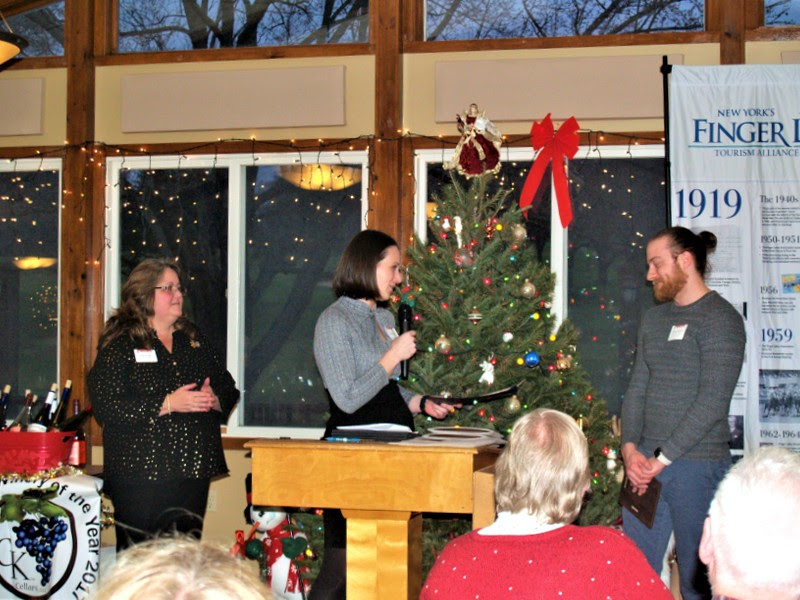 One of the biggest events that occurred this past week happened on Tuesday afternoon when James, the Wedding and Events Manager at Glenora, was presented with the Finger Lakes Tourism Alliance's "Excellence in Customer Service Award for 2019. This is a significant honor for James as he was selected from the many customer service representatives in the 14 counties in Finger Lakes Region, and there are 100's. Under James' leadership the Inn at Glenora has been awarded or inducted into The Knot's (a premier wedding planning publication) Best Weddings Hall of Fame for 7 consecutive years. The Knots's award is based on the comments and reviews received from brides that have had their weddings at Glenora during the preceding year. The Knot award is not only a tribute to James but also to the entire Glenora Team for their hospitality and customer service. Congratulations to James and all!!
Some interesting numbers from Anne, Glenora and Knapp's regional sales associate: During the period from November 15 through November 27th, Anne and her In Wine Shop Tasting team conducted 20 unique tastings. Those tastings resulted in 967 people trying our wines of which 47% purchased wine - 460 bottles (38.33 cases). It certainly cannot be said that we do not support our accounts or assist our distributor. Thanks go out to Anne and her team!
More reports: Retail Sales Manager, Rachel, reported that she and her team hosted a total of 5469 visitors during the two weekends of the Seneca Lake Wine Trail's Deck the Halls event. She also has told us that she and her team conducted their first ever Cyber Monday event which resulted in 78 orders leaving on Tuesday - another happy day for the FedEx folks as well! The retail shop team is now into their 12 Days of Christmas event - a visit to the retail shop will be very rewarding.
Not to be outdone Missy, Inn Manager, conducted a Cyber Monday event as well which resulted in 211 room nights being sold. Another benefit of the room night sales is meals in Veraisons and visits to the retail shop.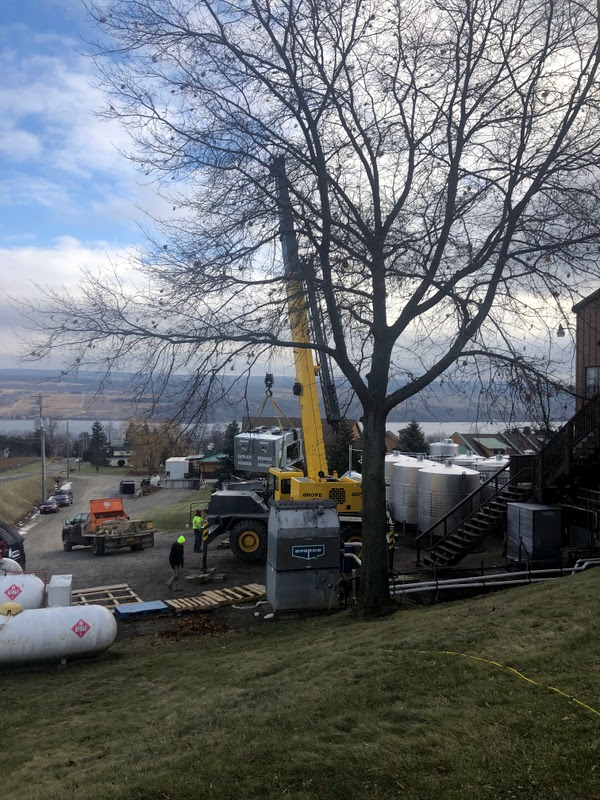 More numbers: The Maintenance team reported that they moved 8 inches of snow during the recent snow storm - everyone has numbers!
Executive Chef Patrick, who is new to Team Glenora team, tells us that he and his team will be introducing their new Winter Lunch, Dinner and desert menus on December 19th - two days prior to the winter solstice!! He also notes that we have 3 openings for guest chefs for our Pasta Night Series. One does not have to be a stellar chef, just have a lot of friends who want to watch you "try" to cook pasta. Also we contribute/donate/give $2.00 (10.55% of the revenue, not of the proceeds which would be much less) for each meal served, to the Chef's favorite Charity.
Words: It is the time of year when we hear "Have a Merry Christmas, if I don't see you before"-what happens if they do see you before? One has to wonder who started that saying and when!
This weekend, yesterday and today is our annual Dosage Your Own event. Lots of folks "creating" their own sparkling wine. Thanks go out to Steve, Rachel, Tracey and Kerry for their parts in making the event a success.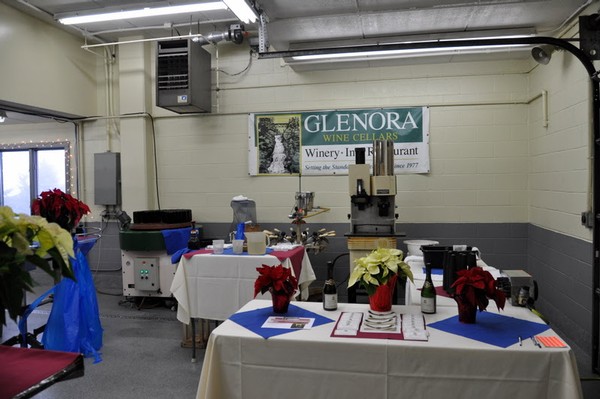 Last of the year: This afternoon we will be hosting a wedding and reception, it may be our last one of the year-but there are still 16 days left-who knows!!
Thought for the week: History
"One cannot and must not try to erase the past merely because it does not fit the present."