Valentine Weekend Dining
February 14-17, 2019
Celebrate with the one you love at Veraisons! In addition to our regular menus, we'll be offering the specials below for lunch and dinner. Reservations are strongly suggested!

LUNCH DINNER
Valentine's Lunch
LUNCH FOR TWO | $30 PER COUPLE*
*Two entrees with a shared dessert. Plus tax & gratuity.
Entree Choices
Select two: Carne Guisada, Apple Chicken Salad, Ham and Chorizo Panini, Muffaletta, Beet Burger, Turkey Reuben, Chimichurri Tacos, or Cuban
*Excludes Beef Burger
Shared Dessert
Passion Fruit Cake or Chocolate Pistachio Tart
APPETIZER
Roasted Beet Salad $12
Lively Run goat cheese, micro green salad, beet vinaigrette, salt roasted pistachios
GF, v
ENTREES:
Wild Boar Chop $42
cheddar grits, haricot vert, trumpet mushrooms, bourbon plum jam
GF, NF
Grilled Porterhouse for Two $80
First Course - Veraisons Salad to share
Second Course - Porterhouse steak, creamed brussel sprouts, mashed potatoes, onion rings
GF, NF
DESSERT:
Passion Fruit Cake $12
coconut cream, white chocolate, passion fruit, coconut crumble, coconut ice cream
NF, v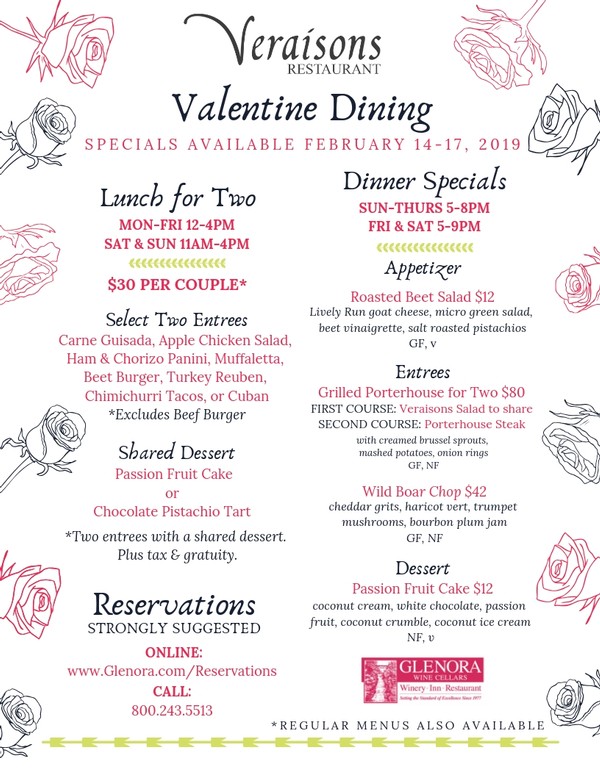 Reservations Required
Reserve a table online today!
For parties of 6 or more, please call 800.243.5513 for reservations.

GF = Gluten Free | DF = Dairy Free | v = Vegetarian | V = Vegan | NF = Nut Free

For your convenience, a gratuity of 18% will be added to parties of 6 or more.
Veraisons will accommodate special dietary needs. Please let the hostess know when making reservations so that we may prepare ahead for your needs.
Make it a Weekend
Take advantage of our Valentine's Getaway Package at the Inn!