Meet our Chefs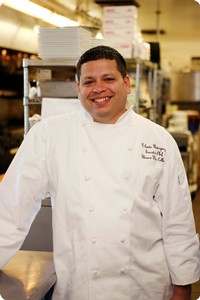 Executive Chef | Orlando Rodriguez, CIA '99
Orlando Rodriguez, a graduate of the Culinary Institute of America, has presided over Veraisons Restaurant as Executive Chef since 2007. Orlando is a Connecticut native of Dominican heritage and speaks Spanish fluently. Over the years, he has established a strong rapport with area farmers asking them to create the finest and freshest ingredients for Veraisons. Bringing with him a passion for fine dining with an added casual flair, Orlando creates menus that are unique, colorful, and full of flavor and texture. His knowledge, excitement, and experience together with his incredibly calm and witty demeanor, make all of us at Glenora Wine Cellars honored to have him leading our culinary team!
Sous Chef | Sarah Hassler, CIA '12
Sarah Hassler is the Sous Chef of Veraisons Restaurant. A graduate of the Culinary Institute of America and an advocate for the Finger Lakes region, Chef Hassler has a keen understanding of flavor and nuance and a reverence for the agricultural community, bringing local ingredients into her cooking as much as possible. Originally from Fleetwood, Pennsylvania, Sarah's formative years were spent on her family's dairy farm, leaving a life-long passion for food and the world behind it. She has been a member of the Glenora team, in between her time at CIA and professional experiences in the Hudson Valley, Seattle, Washington, and Corning, New York since 2009.
Pastry Chef | Kirsten Fitzpatrick, CIA '13
Kirsten Fitzpatrick, Finger Lakes native and pastry chef of Veraisons Restaurant at Glenora Wine Cellars, graduated from the Culinary Institute of America's Baking and Pastry Program in 2013 with an A.O.S degree. After spending a summer at Turning Stone Casino & Resort in Verona, New York working production in their pastry department, she returned home and took up a position at Veraisons. Since joining the team in 2014, Kirsten, in tandem with Sous Chef Sarah Hassler, have completely revamped the pastry program at Veraisons.